Nexo has added two new compact point-source loudspeaker models in its P+ Series – the P8 and P10 multi-purpose boxes.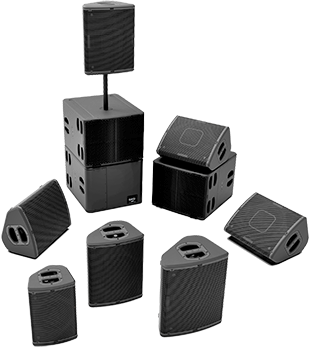 At its manufacturing HQ just north of Paris, France, Nexo has invested in new tooling and assembly plant to produce the curvy modern enclosures that are the signature of its new P+ Series. The P8 and P10 models claim exceptional performance-to-size ratio, precise polar control and outstanding sonic quality, as well as innovative features, the kind seen in the first P+ Series model, the P12, launched six months ago.
Inside custom birch and poplar plywood shells, the P8 features a coaxial 8-inch LF driver with 1.5-inch diaphragm HF driver, and the P10 has a coaxial 10-inch Neodymium LF driver and 1.7-inch diaphragm HF driver. The horn driver can be rotated in both cabinets. However, in the new P+ Series, the quick-release Magnelis steel grille can be quickly removed, allowing the horn to be swapped out, changing the standard 100°x100° dispersion for a 110°x60° alternative. The ability to achieve such wide dispersion and power is intended to appeal to corporate A/V users, keen to make small cabinets perform like larger cabinets.
The custom coaxial drivers are at the heart of these speakers, responsible for smooth, clean sound and high SPL: 129dB Peak for the P8 and 136dB Peak for the P10. Frequency response is 66Hz-20kHz for P8, and 63Hz-20kHz for P10.
The footprints of the two new P+ cabinets are very compact, and the enclosures are light in weight. The P10 measures 497mm high x 384mm wide x 274mm deep, and weighs 15kg. The P8 is just 423mm x 276mm x 250mm, weighing 12kg.
Both P+ Series models are available in Touring and Installation versions. In the Touring version, two large handles on each side hold a 35mm pole stand adaptor and Speakon• connector for discrete connection when the cabinets are used on pole stands or in wedge monitor applications. Two other Speakon connectors are included on the back plate. In the Installation version of the cabinets, a cable gland with a two-core cable for audio input ensures IP54 protection when it is used outdoors.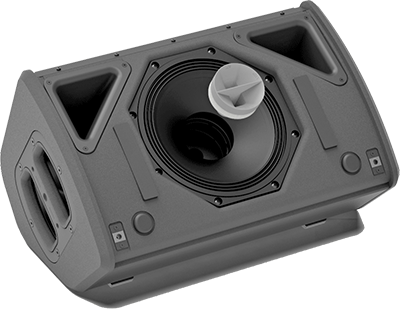 The new P+ Series models are accompanied by a range of accessories, enabling them to be used in a wide variety of touring and installed applications. Nexo has applied the same design principles to the accessories, so that there is an element of interchangeability within the range, which will be an advantage to holders of rental inventory.
Using our new generation NXAmpMk2 amplifiers, we have been able to take quite a leap forward,' says Nexo R&D Director ,Joseph Carcopino. 'The P10 and P8 deliver excellent sonic performance, and are much more dynamic than previous Nexo point source models. Indeed, with its sharp polar control, I believe the P10 will be able to compete against many of our competitors' 12-inch models. When powered with the smaller NXAmp4x1Mk2 amplifier, it is also a very interesting alternative to our own P12 cabinet.'
P10 and P8 have a choice of power sources, with the NXAmp4x2Mk2 and NXAmp4x1Mk2, as well as the affordable Nexo DTDcontroller and DTDAmp4x1.3, which can drive 1x P10 or 2x P8 per channel. NXAmps offer a dedicated set-up for each horn to ensure perfect coverage at any frequency.
The L15 is recommended as the partner sub for P8 and P10. With a new acoustic loading technique using a 15-inch bass horn, nearly all the front face of the cabinet is used as a radiating surface for a frequency range of 40Hz-120Hz and 139dB Peak SPL.
Touring and installation versions of P8 and P10 will be produced in black and white scratch-resistant paint finishes, the first use of a new paint process which is described by Joseph Carcopino, Nexo's head of R&D, as '100 times better than before'. Applied using a special process, the paint finish prepares the P+ Series enclosures for use in all climate conditions, and enables them to deal with the demands of stage monitoring use. TUV and IP54 certification are provided for the installation versions of both cabinets.
More: www.nexo-sa.com