Featuring RCF Precision transducers and wooden enclosure, the RCF NX 10-A II is designed for use as a stand-alone FOH system, satellite (with subwoofer), stage monitor or flown loudspeaker. Designed to complement to the RCF high-powered HDL System or NXL arrays, it features multiple rigging points and FiRPhase processing.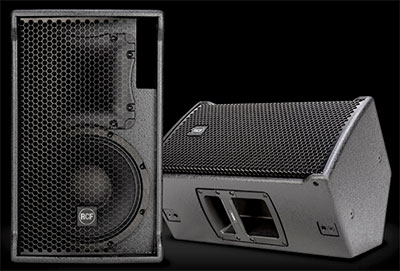 The loudspeaker's CD350 driver is a high-performance 1.75-inch diaphragm ceramic compression unit with a 1.0-inch exit throat. The diaphragm is precision formed from polyester with voice coil assembly designed using high-temperature Kapton former and rectangular profile copper clad aluminium wire. It is horn-loaded for 90° x 60° Constant Directivity Coverage. For LF, the assembly uses an RCF 10-inch woofer and compression driver.
The 1.4kW amplifier features a solid machined aluminium structure, which stabilises the amplifier during transportation and assists in heat dissipation. The internal DSP has limiters and protections for the transducers and includes the special FiRPhase filters to achieve coherent distribution of sound for all listeners without phase distortion. A single button shapes the sound for background music purposes especially suitable when the system plays at minimum volume levels.
Key features:
129dB maximum SPL.
90° x 60° constant directivity coverage.
10-inch woofer, 2.5-inch voice coil.
Horn-loaded 1.75" c. driver, 1-inch voice coil.
50Hz to 20kHz frequency response.
1.4kW two-way class-D amplifier
Easy to install with built-in multiple rigging points
The heavy-duty birch plywood cabinet is coated with black textured polyurethane coating. A sturdy powder-coated metal grille protects the front, and the acoustically transparent sound foam backing on the inside ensures protection from dust and humidity. Four rigging points allow easy deployment.
More: www.rcf.it