Comprising the RS 121 and RS 123, the new EAW family of RS Series two-way self-powered loudspeakers and subwoofers and subwoofers is aimed at an extensive range of uses including Theatres, auditoria and performing arts centres, live production/regional rental houses, live music and dance clubs, corporate A/V events, houses of worship and dry hire.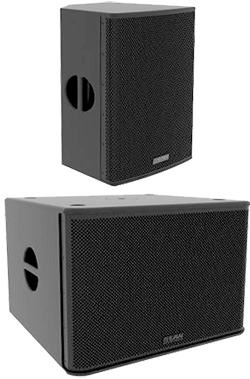 In a portable and lightweight package designed around the latest breed of tour-grade HF and LF transducers, the RS Series employs EAW Core Technology. Both models offer 90° x 60° dispersion and a 55Hz-20kHZ response, with the RS 121 having 135dB max SPL handling and the and RS 123 138dB max SPL.
The loud speakers benefit from EAW Focussing, advanced digital signal processing that manages the impulse response of a loudspeaker in the time domain. Pattern control is further enhanced by the constant directivity HF horn borrowed from the company's MK Series.
The RS subwoofers offer 1.5kW or 2.5kW of class-D Power Factor Corrected amplification. EAW Core Technology, in the form of DynO, ensures power is accurately directed.
The RS Series also benefits from the latest version of Resolution simulation software, allowing accurate prediction of the performance of one or multiple RS Series enclosures within a venue.
'The RS Series is something we have been working toward throughout this year, a powerful, reliable amplification platform coupled with a very competitive package of components and acoustic design,' says RS Series Project Manager, David Sherman. 'We've leveraged aspects of both our RSX and Redline series of products to create an incredible list of features and functions in one of the most easily accessible product lines we've ever created.'
'The RS family is fundamentally about our commitment to delivering high performance in an easy to use portable loudspeaker,' says Director of Product Management, Jeremy Forsythe. 'We made an active decision to invest in high-quality components in the series, then leveraged our Focusing and DynO processing to deliver a level of fidelity and clarity that is unmatched in this product class. Straightforward analogue inputs and voicing options means they can be deployed reliably night after night, and the lightweight and durable enclosure make them easy to transport and set-up. Combined, this creates a versatile loudspeaker that is at home in almost any application environment.'
More: https://www.eaw.com