Harbinger Pro Audio has introduced the Vari 4000 series two-way loudspeakers for DJs, musicians and event hosts.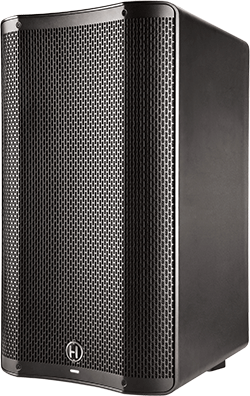 The Vari 4000 series combines 2.5kW (peak) class-D amplification with proprietary XR speaker technology in a plastic-cabinet loudspeaker. The Vari 4112 uses a XR 12-inch low-frequency driver to deliver up to 129dB SPL, while the Vari 4115 employs an XR 15-inch LF driver for up to 130dB SPL. Both models feature the company's XR high-fidelity compression tweeter and offer an overall frequency response of from 35Hz to 22kHz.
A DSP crossover and full-bandwidth frequency management-including a seven-band EQ, knob-controlled treble and bass EQ, and a low-cut filter-ensure extremely accurate control of performance. A built-in frequency response display on the loudspeaker's colour graphic LCD shows the frequency response curves that result from the current settings, and an iOS app allows tuning of a system from anywhere in a venue, using a Bluetooth wireless connection.
Ten preset voicings (which can be edited in the iOS app) configure the DSP for common applications, including Standard use, Club, Live Band, Vocal Boost and Floor Monitor/Wall settings. Five custom presets can also be stored. A dynamic DSP limiter provides system protection at maximum volume. In addition to controlling these DSP features, the iOS app accesses several other parameters, including which speaker outputs left and right in a stereo pair.
The variety of inputs make use of a mixer in some applications redundant. Both the Vari 4112 and the Vari 4115 have three independent input channels and five simultaneous audio inputs. Channels 1/2 have two mic/guitar/line combo inputs, while Channel 3 features left and right quarter-inch line inputs, a stereo 3.5mm aux input, and wireless Bluetooth audio input.
One or more pairs of Vari 4112s or Vari 4115s can be used as a stereo sound system, and additionally as a wide stereo amplification system for keyboards and through Harbinger's Smart Stereo routing, which allows volume and tone control for two or more loudspeakers from the master unit or from the iOS app. It also supports integration of Vari 2318S 18-inch subwoofers with unified tuning and volume control from the master loudspeaker.
Vari 4000 series loudspeakers can be used in a free-standing system, as floor monitors, pole mounted, or flown using threaded fly points.