The BC543 is a new cardioid sub-bass loudspeaker from Alcons Audio, which features an 'industry first', three 18-inch, long-excursion woofers, with all-carbon fibre cone and dust cap.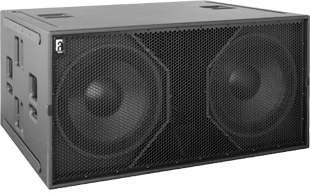 A self-contained, high-output cardioid subwoofer, the BC543 is designed for permanent and portable ground-stacked applications, offering a high output plus tight and accurate bass response. Its front and rear located woofer configuration combines with Alcons Digital Drive Processor (DDP) to offer selectable cardioid, low-frequency pattern control and up to 18dB of rear rejection, without any need for additional cabinets.
The unit's front features two AW18.6NDC/8 18-inch, long-excursion woofers, complemented by a 5.3 inch voice-coil with vented triple-spider frame, Neodymium motor structure, carbon-fibre cone and dust cap. The rear features a single AW18.6NDC/8 driver of the same configuration. The extreme excursion capabilities of the design extends the output by 3.5dB compared to traditional 18-inch woofer designs.
The front of the cabinet features centrally-located X Venting, which takes more than 25 per cent of the baffle surface and is designed to maximise the system's breathing capacity, increasing overall output while minimising port-compression. Meanwhile, the rear features a Flank Venting port, a folded port design which enables optimal reflex-breathing with minimal baffle dimensions.
The internal panel layout and extensive bracing affords the BC543 an exceptionally rigid structure with relatively low weight. Finished in Durotect scratch-resistant coating and is fitted with 12 handles for ease of transport.
The BC543 is powered and controlled by Alcons ALC amplified loudspeaker controllers. Via the DDP, the ALCs provide BC543-specific drive processing with response optimisation, dedicated power/excursion protection and hybrid filtering.
Through the ALC units Signal Integrity Sensing (SIS) circuit, cable-length and connector resistance between the BC543 and ALC are compensated for, providing
increased accuracy and controlled cone travel. This results in a significantly tighter sub and bass response.
A second version, the BC543i, is designed for installations, so lacks the handles and wheel dolly. Both measure 119.6cm x 59.6cm x 97.6cm.
More: www.alconsaudio.com