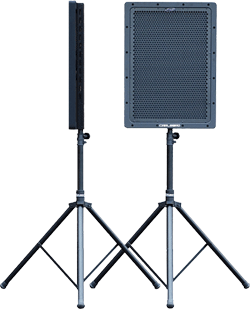 The product of a two year development project, Carlsbro's NlightN, NXT driven, flat-panel sound reinforcement speaker is being launched at this year's Musikmesse.
The speakers are to be assembled at the company's Ningbo factory near Shanghai, and claim 'unique and significant performance advantages in portable PA, A/V installation, commercial audio and architectural applications'. Carlsbro believes that its investment in development and manufacturing technologies results in improved flat panel speakers that outperform conventional enclosures of all kinds in small to medium reinforcement applications and multi-speaker installations. Furthermore, the NlightN flat panel speakers are price competitive with conventional quality enclosures that would normally be used in these kinds of applications.
NlightN flat panel speakers use six small, mathematically positioned exciters – based on conventional moving voice coils – to generate bending waves across the entire surface of a stiff panel membrane. The movement of the panel creates a diffuse soundfield with the dispersion from a NlightN speaker is almost omnidirectional across its full frequency range. This makes the panel well suited to public address and architectural applications, where the prime requirement is for even audience coverage, in terms of both spectral balance and loudness.
With no phase cancellations resulting from adjacent channel interference between panels, sound pressure level is maintained over distance, falling off at a much gentler rate than with conventional speakers, and producing an extended soundfield of almost uniform volume level. The effect of this is to greatly reduce the usual disparity in SPLs between listeners close to a speaker and those further away, enabling signals to be intelligible over a greater distance. And with no enclosure, a panel speaker is free of signal colouration due to cabinet resonances.
With the large surface area of the panel, close proximity microphone feedback is almost nonexistent, the NlightN is optimally suited for small PA applications in small clubs, performance spaces and karaoke bars.
NlightN panel speakers can be mounted in numerous different ways with different fixtures, including PA stands and directly onto walls and other surfaces. The panel surfaces can also be painted or printed with images, corporate logos and so on, in order to provide 'invisible' sound reinforcement.