Targetting demanding indoor and outdoor events in small-to-medium-sized locations, RCF has announced the TT 4 loudspeaker series.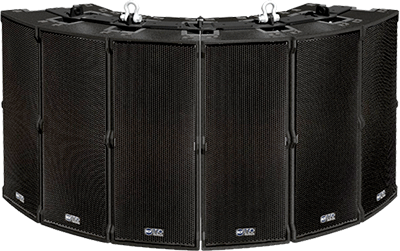 The flexibility of the TT 4 aims to fill the gaps between point source and line array speakers, providing augmented coverage adaptability. This approach combines all the facets of RCF's TT+ technology, such as controlled dispersion, outstanding clarity and extreme power with three coverage options, multiple rigging accessories, remote control and recallable presets.
The system will deliver up to 135dB max SPL thanks to its 1.6kW RMS class-D power section and the high efficiency of the RCF precision transducers with 32-bit DSP running at 48kHz sampling rate. FiRPhase processing optimises dynamics amplitude and time behaviour for 0° linear phase deviation, providing time-aligned sound image with a flat frequency response and ensuring minimum system latency.
Onboard DSP provides linear phase filters and crossover, system equalisation, polarity control, fast limiter, RMS limiter and configuration control from the back panel or advanced management via RDNet.
The three waveguide designs allow the deployment of multiple speakers adapting to extended or asymmetrical coverage. In difficult acoustic environments, intelligibility is significantly increased.
The rigging solutions and versatile arrangement of the transducers allow the loudspeaker to be used alone, coupled side by side or vertically for additional coverage.
More: www.rcf.it