The Alcons Audio BF121 is a high-performance subwoofer system, promising tight and accurate bass response with very low distortion. It features a single 12-inch long-excursion woofer, with double-spider suspension and 4-inch voice-coil in a bass-reflex configuration.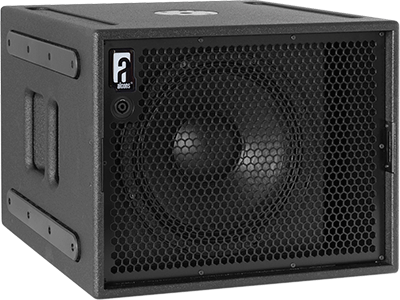 'Ever since we introduced the VR5 ultra-compact monitor, we had clients asking for a smaller sized, accompanying subwoofer, but with the same Alcons sonic footprint, for both portable as well as install applications,' says R&D Head, Philip de Haan. 'The BF121 packs the same punch and accuracy as its bigger brothers BF151 and BF181 compact subwoofers, to maintain the signature uncoloured Alcons sound. It's our smallest subwoofer to date, matching with our smallest pro-ribbon system _ a perfect fit.'
The direct-radiating woofer is mounted in a vented chamber, with large bass reflex port for breathing capacity, increasing overall output while minimising port-compression. The frequency range is tuned to a -3dB response from 40Hz to 300Hz and 33Hz at -10dB.
For full system performance, the BF121 is driven and controlled by the ALC amplified loudspeaker controller; Driven by the ALC, the BF121 delivers maximum sound quality and output power with long-term operation reliability. The integrated factory presets in the drive processor of the ALC offer gain, phase and filtering matching with all Alcons systems, including cardioid projection control presets.
The additional front-positioned NL4 connector caters for 'reverse connection' in cardioid arrays, which can be simulated in ARC, Alcons Ribbon Calculator.
The BF121 is SIS pre-wired: Through the Signal Integrity Sensing circuit of the ALC, the cable-length and connector resistance between the BF121 and ALC is dynamically compensated (a system damping factor of 10.000), further reducing distortion, while increasing response accuracy.
As the BF151 (single 15-inch) and BF181 (single 18-inch) the BF121 features a 4Ω system impedance for very efficient amplifier loading, enabling maximum output from a compact, single-transducer configuration.
The BF121 is available in road and installation ('i') versions, without handles, wheel dolly board and M20 threaded stand mount flange. It is finished in Durotect scratch-resistant coating. Through the Architect Color Option program, the BF121 can be finished in any RAL colour. It comes with Alcons' 'no-hassle' six-year warranty.
More: www.alconsaudio.com