With a new design concept and improvements in audio performance, usability and portability, Yamaha's new Stagepas 1K uses modified versions of the 1.5-inch (375mm) drivers, 170º horizontal coverage and slimline appearance.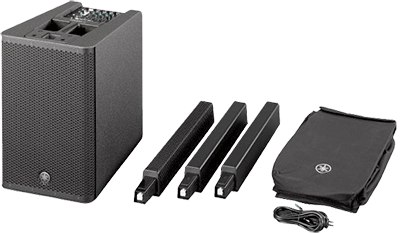 The streamlined, reduced weight Stagepas 1K system features an array of ten of the 1.5 inch drivers working seamlessly with a largest-in-class 12-inch subwoofer to deliver uniform, high-quality sound. The subwoofer features Yamaha's Twisted Flare Port technology, which reduces wind noise in the bass reflex port, delivering a clearer, more powerful, distortion-free low end.
Complementing the loudspeakers is a 1kW class-D amplifier, delivering 119dB SPL and maintaining exceptional stability and sound quality, even at high output.
The back of the subwoofer houses a digital mixer with three mono mic/line channels (two with Hi-Z connectivity for direct input of electro-acoustic guitars and other instruments), plus stereo inputs which support playback from Bluetooth devices.
The mixer also features professional sound engineering tools, including 1-Knob EQ that handles multi-band processing simultaneously, high-quality SPX digital reverb and a Mode feature to adjust optimised compression settings (such as speech or music) to match different applications. Each of these functions can be set via a single rotary control, simplifying many of the more difficult tasks like EQ and compression to quickly deliver great sound.
Users can also download the dedicated Stagepas Editor app for iOS/Android, allowing remote adjustment of the system's volume and EQ. It's also possible to call up previously saved settings, enabling a more efficient rehearsal or performance.
Setting up Stagepas 1K involves fixing the array speaker to the subwoofer cabinet using none, one or both of the provided spacers. No other cables or speaker stands are needed. The included carrying case protects the system during transportation and storage, including the power cable and any microphones or cables used by performers. An optional DL-SP1K lightweight dolly allows for more convenient transport, with a simple, sturdy mechanism to lock down the speaker cover.
For users requiring a greater coverage area or increased sound pressure levels, two Stagepas 1Ks can be linked together in stereo or in mono. When in mono, the inputs of both systems can be used, providing a total of six mono and two stereo inputs.
Stagepas 1K will be available from Q3 2019, priced €999.
More: www.yamahaproaudio.com