Aiming to set a new benchmark for 8-inch line arrays, Martin Audio has added WPS to its Wavefront Precision optimised line array series.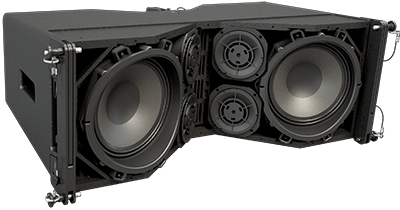 'Simply put, the more enclosures with dedicated amplifier channels, the higher the resolution and scale of coverage and control is achievable,' says Martin Audio MD, Dom Harter. 'This means even at the lowest level of resolution the results are still fundamentally better than traditional line array, at no extra cost, and at the top end of resolution users can enjoy many of the benefits that MLA systems provide. Presently other manufacturers are forcing their customers to buy very expensive and fixed amounts of amps to optimise arrays, but with Wavefront Precision the decision on the level of coverage control, and therefore the number of high-powered efficient iKon amps required, is the customer's.'
Following the introductions of WPL (12-inch LF), WPC (10-inch LF) and WPM (6.5-inch LF), WPS (8-inch LF) is the fourth in the series and is a versatile line array with a peak SPL of 133dB for applications that require a high output array with reduced weight and footprint. It is intended for live sound reinforcement and installations in theatres, concert halls and houses of worship. Return-on-investment within a rental company's inventory is maximised by also employing WPS arrays as front-fill, delay or side-hang support for larger Wavefront Precision systems.
WPS is a passive three-way system which integrates a high density of drive units in a very compact enclosure. It features two 8-inch LF drivers, four 4-inch midrange drivers and four 1-inch exit HF compression drivers loaded by a moulded HF horn that occupies the full width of the enclosure – defining the 100° horizontal constant directivity coverage pattern of both the HF and midrange sections.
The 4-inch midrange drivers are compression-loaded to raise efficiency and enter the horn walls via annular slots close to the HF throat to sum effectively with the HF wavefront. In the HF section, four 1-inch exit compression drivers deliver pristine avoid the harshness and distortion associated with larger-format devices.
The 8-inch LF drivers are set back behind the walls of the HF horn, with a small volume of air in front of each driver increasing the output at the upper end of its operating range. The LF exit apertures are spaced apart horizontally to provide useful LF horizontal pattern control.
'With WPS this was a ground up product development,' Harter says. 'We wanted to overcome the deficiencies and compromises of other 8-inch line arrays available on the market today. That's why we have more drivers in WPS than anything else we believe in its class, with spacing, waveguide and crossover point engineered to deliver in particular optimum HF performance with exemplary mid and high frequency pattern control, even at higher SPL.'
For extended low frequency performance, WPS is designed to be partnered with the SXC118 cardioid subwoofer and its flyable variant, SXCF118.
'Wavefront Precision has been the company's fastest ever selling line array series, and a significant contributing factor in Martin Audio's rapid success over the past three years,' Harter adds. 'The introduction of WPS extends the line to make it an all-powerful optimised line array family that will best serve customers around the world. As one of the founders of the pro audio industry it remains critical that we continue to push forward with our aggressive new product strategy in order to flourish.'
More: https://martin-audio.com