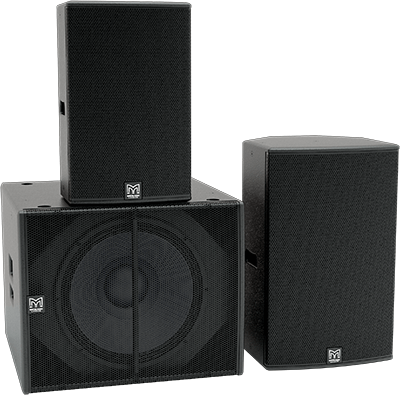 Aiming to set a new benchmark for 'full-bandwidth, high-definition portable audio at a user-friendly price point', Martin Audio has added BlacklineX Powered to its BlacklineX family.
Prompted by customer demand, new range follows the international success of the passive BlacklineX Series of portable enclosures – now the fastest-selling portable series in Martin Audio's 48-year history.
Comprising the 12-inch XP12 and 15-inch XP15 full range enclosures plus the compact but 18-inch XP118 subwoofer, BlacklineX Powered integrates acoustic, DSP and amplifier technologies.
In addition, BlacklineX Powered offers optional Bluetooth control, streaming and onboard three channel mixer, placing increased flexibility and features within easy reach of every user – from live venues, DJs and corporate events to permanent installs, particularly houses of worship. Users will also recognise the road-ready construction, quick set-up and adaptability of this range developed by one of pro audio's founding brands.
'BlacklineX was the first series the team developed and launched after I became Managing Director,' recalls Martin Audio MD, Dom Harter. 'It's become the fastest selling portable series the company has ever launched and a significant contributing factor in Martin Audio's rapid success over the past three years. The introduction of a self-powered series makes perfect sense and by leveraging our engineers' expertise in acoustic, DSP and amplifier technologies, we have crafted a very forward-looking portable range with a classic Martin Audio sound.'
BlacklineX Powered will begin shipping worldwide in July 2019.