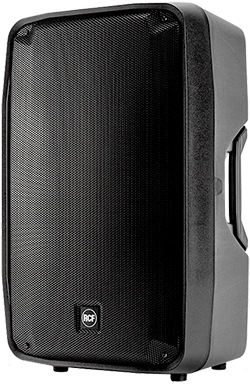 The RCF HDM 45-A is an active two-channel loudspeaker with the company's RDNet networked management and RCF Precision Transducers enclosed in a rugged cabinet weighing 22kg. It is pitched as a main front of house speaker in PA systems, a high-powered floor monitor, or unobtrusive infill system when combined via RDNet network with TT+ or HDL System speakers.
One of the most powerful loudspeakers in its category, the RCF HDM 45-A delivers up to 133dB SPL with low distortion and fast transient response. Its 4-inch RCF Precision Transducers titanium compression driver allows for a crossover point at 650Hz, so the vocal reproduction is constantly powerful and accurate. The advanced FiRPhase filtering algorithm optimises dynamics, amplitude and phase patterns while ensuring minimum system latency.
The RDNet management software controls all the features of the 1.6kW+600W RMS onboard amplifier. The HDM concept is inspired by the touring industry, combining reliability and strength for intensive use on the road.
Portable and quick to deploy, the HDM 45-A is versatile robust enough to provide years of service on the road.
More: www.rcf.it