EAW has launched the KF810P installation line array, the latest model in the company's KF800 series.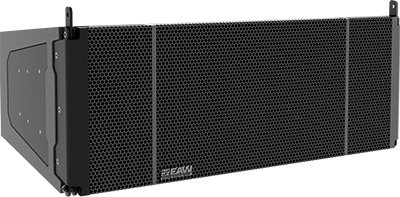 As with other KF-series loudspeakers, the KF810P is a three-way system for installed applications. It incorporates clean aesthetics offered in black or white, invisible wiring, and concealed three-point rigging. A weather-rated option enables long-term permanent installation in demanding environments, backed by EAW's full warranty.
The KF810P integrates two high-powered, ported, 10-inch low-frequency drivers with 3-inch voice coils; four 5-inch midrange drivers with 1.7-inch voice coils; and two high-frequency drivers with 1.4-inch exits and 3-inch voice coils. Tuned, phase-aligned spacing of the low-frequency components extend pattern control.
The output of these sources unites through an integrated horn that occupies nearly the entire forward face of the speaker enclosure, delivering up to 145dB SPL with accurate pattern control down to 250Hz to master the most challenging acoustic spaces. EAW's Concentric Summation Array (CSA) technology seamlessly integrates the components within the horn so that multiple subsystems sum coherently, without interruption to either the high- or mid-frequency wavefronts. The result is smooth, accurate, studio monitor-quality response from 50Hz to 20kHz. Nominal beamwidth is either 80° or 100° horizontal by 10° vertical.
'The KF810P is the first result of the exciting investment in R&D we are embarking on at EAW,' says EAW Director of Product Management, Jeremy Forsythe. 'We have listened to our partners and engineered this line with our signature EAW pattern control and best-in-class transducers and output. Concealed wiring and rigging give the KF810P an architecturally transparent look, making it an ideal loudspeaker for a wide range of installation applications. The KF800 series is in the DNA of EAW-we all grew up attending concerts powered by the legendary KF850-and this is a return to the uncompromising performance and the EAW sound we are known for.'
More: www.eaw.com