Following system packages for its Linear 5 family, HK Audio has released three turnkey Linear 3 system packages for bands and DJs, offering a combination of various Linear 3 family components – the L3 Compact Venue Pack for bands performing at small clubs or youth centres; the High Performance Pack for up to 500 people; and the L3 Bass Power Pack for DJs who play bass-heavy music for crowds of up to 250 people.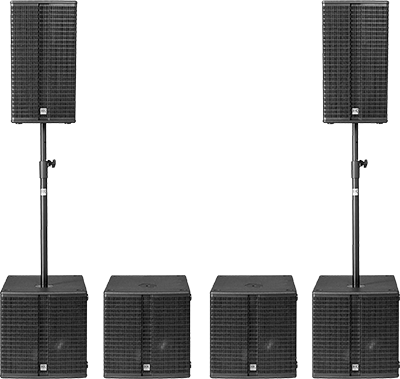 All three packs offer plug-and-play solution for artists who have no technical engineer in their road crew and want to focus on their performances, rather than on mixing duties. Sound preset selections on the mid/high units offer optimal audio adjustments in seconds, while the integrated DSP optimises sound quality.
The Linear 3 Compact Venue Pack combines two L3 112 FA mid/high units and two L Sub 1500 A subwoofers for a four- or five-piece line-ups entertaining up to 300 people. The system offers preset buttons on the back of the speakers for smart DSP filter settings, and fits in a band's van or trunk of a car. The Compact Venue Pack features two Linear 3 112 FA cabs and two Linear Sub 1500 A subwoofers, with two K&M speaker poles and four covers.
The Linear 3 High Performance Pack comprises two L3 112 FA mid/high units and four L Sub 1500 A subwoofers for total power output of 7.2kW. Four presets afford access to DSP filtering to adapt the rig's response to the room. Stacked or placed in line, the four subwoofers pack plenty of low-end punch for bands and DJs with audiences of up to 500 people.
The Linear 3 Bass Power Pack combines two L3 115 FA mid/high units and two L Sub 1800 A subwoofers, and offers four EQ presets – Bass Boost, Flat (LF), Flat (HMF), and Contour – to tweak the response to purpose. Two Linear 3 mid/high units can get the party pumping in standalone mode without added subwoofers.
The Linear 3 system packages are available now, and all include accessories.
More: wwwhkaudio.com