RCF's HDL range of composite line array enclosures has been expanded with the addition of two models with optimised control, using RDNet, RCF's proprietary monitoring and management platform.
The HDL 26-A is a development of the HDL 6-A and is a double 6-inch device with a 3-inch compression driver (rather than the 1-inch CD found in the HDL 6-A). Replacing the 1.4kW amplifier is the uprated and newly developed 2kW class-D amplifier. The smallest member of the HDL family allows extended bottom end and a pristine sound for a wide range of applications and configurations.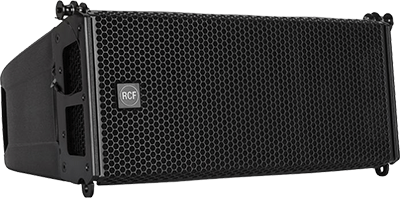 Also new to the series is the HDL 28-A which builds on the HDL 10-A, suitable for a wide range of applications, both indoors and outdoors. Because the woofer is a 2 x 8-inch device, with 2.5-inch voice coil and a 2.2kW class-D amplifier it is capable of far more bottom end, pristine mids and low distortion, with an emphasis on vocal intelligibility.
Although these models draw on the heritage of our earlier successful HDL models, only the cabinets remain the same. RCF has re-engineered the speakers as a new system, and these will now be known as HDL Systems to denote the fact that RDNet is onboard. By using more powerful woofers, this has led to a significant extension in the low end, while the larger compression drivers will deliver a higher SPL and less distortion for increased intelligibility.
With the addition of the RDNet Networked Management protocol, the advantages of having these speakers on the network is highly significant. RDNet 3.2 will allow design of the arrays inside the management software, recognising and connecting them immediately when turning on the devices. While the new Bass Shaper function will allow adjustment of the line array low frequencies, the Air Compensation function will now correct the system response in real-time.
More: www.rcf.it