DAS Audio has announced the Action-500 series, comprising eight active and eight passive loudspeaker models, which include a 12-inch monitor, full-range systems consisting of 8-inch, 12-inch, 15-inch and 2 x 15-inch, and three subwoofers. The renovation of one of DAS Audio's most recognised series upgrades both design and physical features, making the systems more compact and lightweight, with an attractive modern design.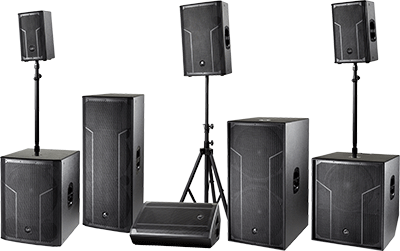 The Action-508 incorporates a newly designed DAS 8GV transducer and M-34 compression driver. The Action-508A powered version adds a new class-D power amplifier, providing higher power, thus optimising the performance of the system. All full-range systems in the Action series, including the Action-508/512/515 and 525 have new horns that provide improved frequency response on both the vertical and horizontal planes while offering a wider (90ºx 60º) dispersion for room-filling coverage. The horns can be rotated to maintain coverage coherency when used in the horizontal position. The Action-512/512A and Action-515/515A have dual angle pole mounts, 0º and 10º, making it possible to adapt the coverage when needed.
All active systems incorporate a mixer with two signal inputs, offering versatility when used by performing musicians, DJs, or any application requiring two sound sources. DAScontrol technology with a rear located LCD screen allows the one of three presets (Live, Dance, and Monitor) to be selected, along with HP and LP filters that optimise the systems when used with subwoofers. The powered systems provide the option of using the logo as a limit indicator, which can easily be seen from the front of the cabinets.
The subwoofers of the series, the Action-S18 and S218, improve their performance with a new transducer (18FW) designed by DAS Audio. The high excursion transducers achieve clarity and high power in the reproduction of LF.
The enclosures, made of birch wood and coated with black Iso-Flex paint, is designed to achieve high durability and resistance to withstand the most demanding environments.
DAS Audio's new Action 500 Series loudspeakers are expected to become available Q2, 2019.
More: www.dasaudio.com