EAW has added of the RSX212L line array module and RSX18F subwoofer to the Radius Series of loudspeakers, bringing versatility for touring and permanent install applications.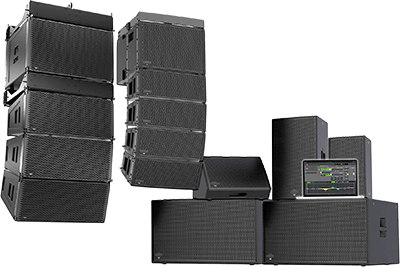 Similar to the other products in the Radius Series, the RSX212L and RSX18F use EAW's proprietary Focusing and Dyno technologies to deliver immaculate impulse response throughout the coverage area even at the highest output levels. The accompanying EAWmosaic applications tackles prediction, control and monitoring for all Radius enclosures. For added convenience, EAW's Resolution software can also be used for prediction of all Radius products. 


The two-way RSX212L line array module is loaded with two 12-inch low frequency drivers and two 1.7-inch voice coil compression drivers. Like the smaller RSX208L line array, the RSX212L includes array self-detection via onboard infrared sensor and accelerometers that enables EAW's OptiLogic technology to pre-optimise the array to reduce set-up and tuning time. The RSX212L features three-point rigging, a new flybar, caster pallet and cover designed for quick deployment and pack down.


The RSX18F is a single 18-inch, flyable, low frequency module that offers automatic cardioid functionality, in stacks of two or greater, via OptiLogic. The subwoofer provides significant low-end support for all full-range products in the Radius Series and can be flown with the companion RSX208L line array module via a new accessory adapter. 


The entire Radius Series features all-wood enclosures, EAW Roadcoat finish, Power Factor Corrected class-D amplification and a rear-panel LCD screen and encoder to provide on-box access to all Radius functions. Dual locking etherCon connectors offer daisychained Dante connectivity for single cable audio and communications. There is also an integrated wireless router connection on every Radius loudspeaker that delivers router placement options. Analogue input option and automatic fail-over redundancy is managed with XLR audio input and thru connections. Power is delivered via powerCon inlet and loop connections.
More: http://eaw.com