Yamaha has released StagePas 400BT and 600BT, two new systems in the StagePas line of portable PA systems.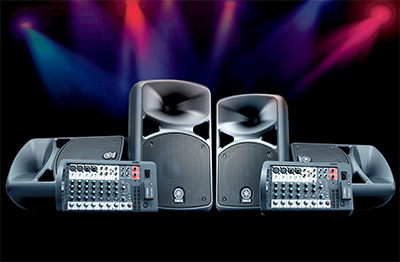 Updated versions of the StagePas 400i and 600i, now offer Bluetooth audio streaming, Yamaha DSP and comprehensive suite of onboard features. Both systems feature two sleek, lightweight speakers and a detachable powered mixer, along with a pair of speaker cables and a power cord, giving users a complete, portable sound solution that can be set up quickly and easily in a variety of configurations and environments.
Producing 400W and 680W respectively, the 400BT and 600BT offer significant power for the size of the system. DSP ensures every StagePas delivers consistent, high-quality sound at any volume level, while simultaneously extending the life of amplifier components using advanced limiter circuits. The new Bluetooth feature allows users to remotely stream audio from up to 10m away from the amp/ mixer unit, giving musicians, public speakers, instructors and any other StagePas user instant access to any audio they choose.
The new models feature four mic/line inputs and six line inputs (StagePas 400BT features four line inputs). Inputs 3 and 4 feature a combo jack that can accommodate either XLR or quarter-inch connectors. In addition, both models feature a stereo RCA pin jack, stereo mini jack and, of course, a Bluetooth input, allowing for wireless audio playback from smartphones, tablets and computers.
Using an updated rotary control design that improves visibility for mixing and console management in low-light situations, the detachable mixer features simple, intuitive controls. One control provides access to four different high-resolution SPX reverbs, while Yamaha's 1-knob Master EQ offers optimised settings to match the sound with its environment from a single control. Even the onboard feedback suppressor allows users to remove unwanted feedback with the touch of just one button.
The StagePas 400BT features two-band channel EQ, while the 600BT adds mid-range control for three-band EQ, which especially benefits guitar and vocal performances. Switchable stereo/mono inputs is a flexible new feature that can transform each stereo channel into two independent mono channels if an application requires more input capability.
StagePas also offers switchable Hi-Z inputs, allowing for hassle-free connection of passive pickup instruments, as well as phantom power, enabling direct connectivity of condenser microphones. It also allows users to instantly turn the reverb on or off, using an optional footswitch.
Additionally, both the 400BT and 600BT come equipped with Monitor and Subwoofer outputs, providing seamless expandability. For applications requiring a more powerful front-of-house set-up, a monitor mix or a more prominent bottom end, simply plug in powered speakers such as Yamaha's DBR, DXR and DSR Series speakers or DXS Series subwoofers. Newly upgraded DXS15mkII and DXS12mkII models make a perfect compact and lightweight option for StagePas users that require bass-heavy mixes for their live performances or playback.
'Ever since its release in 2005, StagePas has been a staple of live music performances, events and public speaking or instruction applications for audio engineering beginners or musicians who prefer to set up their own sound,' says Yamaha Pro Audio Division General Manager, Yoshi Tsugawa. 'With the addition of wireless audio playback, via the new Bluetooth audio streaming feature, we hope that the additional flexibility and freedom will inspire more creative usage and success with our best StagePas yet.'
More: www.yamahaproaudio.com