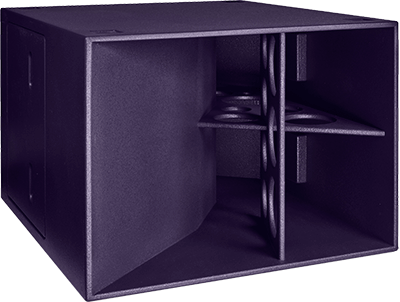 Building on design thinking behind Funktion-One's F132 horn-loaded bass enclosure, the new F124 further develops the company's bass loading and driver technology.
'With the 32-inch F132, we introduced something unique to the market: transient in the sub frequencies, as far down as 25Hz,' Funktion-One co-founder Tony Andrew explains. 'From there, we felt there was potential to go further by using the knowledge we'd gained when developing the F132 to create a 24-inch bass speaker.'
By re-visiting a 24-inch frame and tooling developed during a previous R&D phase, the basis of the new enclosure quickly fell into place. To create the completed package, Funktion-One invested significant time into ensuring the other elements were exactly right. Key among these was the magnet and coil. Andrews and the Funktion-One design team worked closely with Precision Devices to find the best performing solution, eventually developing a double 6-inch voice coil motor with an unprecedented Bl factor of 50 to give the necessary motive power. To Funktion-One's knowledge, this is now the most powerful electromagnetic structure in a loudspeaker.
Two voice coils and intense magnetic flux control a 24-inch cone with high accuracy, ensuring excellent transient response and extended depth to below 30Hz. This combination of mid-bass speed and impact with low-bass extension from a single enclosure makes the F124 well suited to partner the company's Evolution systems and other Funktion-One mid-high speakers.
'It's probably the best all round bass device on the planet,' Andrews says. 'Everyone who has experienced it has been blown away. It was quite a long development process – around two years – but that attention to detail has returned a fantastic result.
'The fact that it's horn-loaded means that its output is solid and precise. At this sort of size, most other manufacturers use bass reflex technology, which gets a completely different result. I believe we're the only company doing anything that is genuinely different that works, and with the addition of the F124, I feel that we've got a complete range of the highest performing bass speakers on the market.'
Following its official launch at the 2018 Winter Namm Show 2018, the F124 will be available worldwide via the Funktion-One distributor and dealer network.
More: www.funktion-one.com