DAS Audio has expanded its Event line with the addition of the Event-212A line array and Event-121A subwoofer.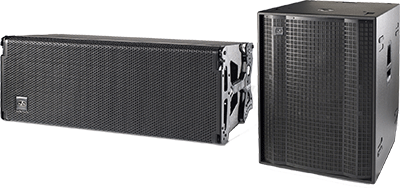 The DAS Event-212A is a powered, three-way line array loaded with two proprietary 12-inch loudspeakers in a dual-band configuration. These have been paired with a single M-75 compression driver and purpose-designed injected aluminium waveguide to support both 90º and 120º coverage.
The system incorporates the DAScontrol interface for set-up in arrays and easy alignment with the Event-218A and Event-121A subwoofer systems. Presets for the number of units of the array, HF compensation for throw distances, and correction for the splay angle of the array can be selected by way of DAScontrol and the LCD screen located on the back of the cabinet. The digital signal processing of the Event-212A includes Finite Impulse Response (FIR) filters providing linear phase response and precise impulse response.
Accompanying the new line array, the Event-121A is a direct radiating rear-loaded powered subwoofer system, which incorporates a single 21-inch neodymium loudspeaker to provide 'earth-moving' low-frequency reproduction for the Event Series line arrays. The combination of direct radiation and rear-loading provides a high output, tight and accurate sub-bass response.
The Event-121A employs the new DAS 21LFN loudspeaker, which uses a 4-inch sandwich split winding voice coil, aFEA optimised neodymium magnet assembly and FEA optimised suspension system with double silicon spider. An aluminium demodulating ring benefits lower distortion and effective forced ventilation of the voice coil gap provides for a high thermal rating, and reduced power compression.
The Event-121A electronics package includes a 3.2kW (peak) class-D amplifier and 24-bit DSP. On the rear panel, controls can be found for gain, polarity and a continually variable low-pass filter that ranges from 63Hz to 100Hz. A 'cardioid preset' button simplifies the use of subs in cardioid configurations, making set-up of two to three units a snap without the need for an external DSP. The Event-121A is phase response coherent with the Event-208A, Event-210A and Event-212A active tops offering precise alignment. Two balanced inputs with stereo filtered outputs, which can be switched to pass-through connections, are provided.
The enclosures are manufactured using birch plywood and finished with ISO-flex coating, which makes the cabinet extremely roadworthy. The rigging hardware of the Event-212A has been designed to provide rapid deployment, precise aiming and durability for years of demanding use. The Event-121A has reinforced handles located on either side as well as on the top of the enclosure. Two wheels located on the lower rear of the cabinet make moving the unit easier. Optional accessories include rigging bumpers, steel bases for securing the Event-212A line arrays to the Event-121A or Event-218A subwoofers in stacked applications as well as transport dollies and protective covers.
More: www.dasaudio.com