Amate Audio has introduced the Nítid N208 compact line array and companion N18W/N218W subwoofer systems.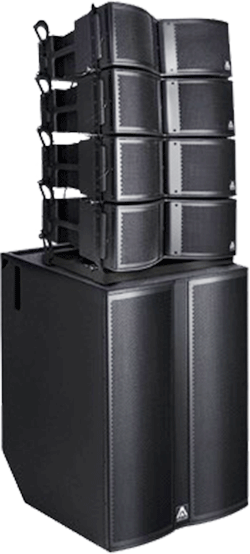 The N208 is a two-way active line array speaker system incorporating two direct radiating 8-inch loudspeakers with 2.5-inch voice coil and neodymium magnet. The cabinet is designed around proprietary high performance 110° x 11° aluminium long-throw waveguide, coupled with two 1.75-inch voice coil diameter, PEN diaphragm, neodymium magnet compression drivers. The waveguide provides consistent signal reproduction over a greater distance than is usual with compact line arrays, increasing the breadth of applications in which the system can be used.
Nítid N208 arrays are configured in coupled pairs of active and passive cabinets, in a high-efficiency control system found in the company's flagship X210 line array; integrated third-generation 1.5kW class-D amplification and DSP control in the active cabinet controlling both units. Custom rigging design and a wide range of optimized DSP control presets enable the near instantaneous deployment of the N208.
The Nítid N18W and N218W are high-power compact subwoofers, matched for use with the N208. Direct radiating 18-inch LF drivers – one in the N18W and two in the N218W – are front-loaded in bass-reflex tuned enclosures with laminar ports. High performance driver specifications include a 4-inch inside-outside copper voice coil, for thermal and power handling stability, a double demodulation ring within the magnet, for reduced harmonic and intermodulation distortion, as well as water repellent cone treatment for all-weather deployment.
System control on the Nítid N208, N18W and N218W is accessed from a proprietary SensitiveTouch keypad, on the rear mounted control panels with LCD. No mechanical components or moving parts makes the SensitiveTouch capacitive sensor highly responsive, weatherproof and durable, compared with conventional mechanical controls. The interface enables set-up and recall of multiple system parameters. On-screen output power display monitors the system. ECO mode automatically powers down the amplifier in the absence of any signal, if selected.
DSP control on the N208 includes five-band EQ menu with five equalisers, crossovers, delay, limiter, gain control, mute and input dynamic compressor. Selectable system presets offer numerous instantaneous optimised configurations; these include dual N208 units without and with sub, four N208 units without and with subs, and eight N208 units without and with subs. These combine with the cabinets' custom rigging system and accessories, for exceptional ease of flying or stacking; enabling extremely rapid deployment and set-up of the Nítid line array in a comprehensive range of event, touring and fixed installation applications.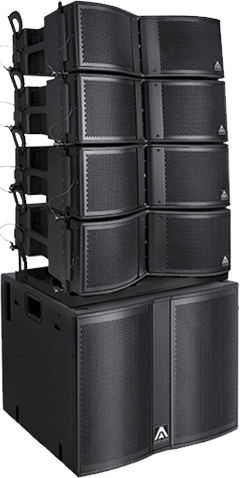 Both the N18W and N218W are powered by onboard third-generation class-D 2.5kW amplification. Dedicated DSP system control extends to crossovers, EQs, delay, limiters, gain control, mute, input dynamic compressor and polarity. A selection of system presets instantly configure the N18W and N218W for a wide range of applications; including various cardioid signal presets. Simply connect the subwoofer and choose between several options for the required cardioid configuration in seconds.
Distinguishing structural details include the exclusively designed speaker grilles – 1.5mm (N208) and 2mm (N18W and N218W) thick – providing robust protection and improved sound quality with the best perforation coefficient in the market. Polyurea coated multilayer birch plywood cabinet construction, provides high structural reliability and damage resistance in touring, rental and other demanding applications.
All cabinets incorporate ergonomically designed and located handles for exceptionally easy handling. A range of accessories allow for easy flying and stacking of the N208, while the N18W features M6 rigging points and a M20 plate socket top side for full range enclosure coupling, and the N218W a M10 plate socket.
Amate Audio's universal switching mode power supply also features on all three models, providing 90 per cent efficiency power supply to the amplifier circuitry, for maximum power delivery with minimum consumption; enabling operation with any mains condition between 85V and 265V AC.
'Our track record in developing successful, innovative line arrays, provides the opportunity to integrate proven designs and electroacoustic components with the enhanced control possibilities offered by the latest digital processing technologies,' says company VP and CTO Joan Amate. 'The result is that the Nítid line array is an exceptionally price competitive offering; and its advanced performance and system capabilities make it a unique proposition in the market.'
More: www.amateaudio.com