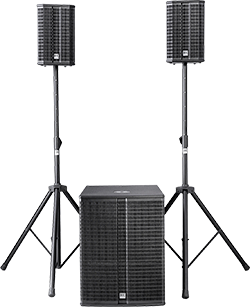 HK Audio's Lucas 2K is a compact PA for mobile DJs serving events such as weddings, galas and parties. Where the Lucas 2K15 features a 15-inch wooden bass reflex subwoofer, the Lucas 2K18 uses an 18-inch subwoofer to accompany a pair of 8-inch/1-inch satellite speakers.
Lucas 2K features a new 2kW power amplifier and advanced DSP technology. Tuned filters ensure systems work equally well with all kinds of programme , and systems can be scaled up when more bass is required using the Linear Sub 1500 A (Lucas 2K15) and Linear Sub 1800 A (Lucas 2K18) subwoofers.
Practical features like HK Audio's MultiGrip recessed handles and M20 speaker pole mounts make handling Lucas 2K simple and convenient (the 53kg Lucas 2K15 system can be transported and set up by a single person) while MonoTilt technology allows the satellites to be angled towards the audience. An accompanying range of practical accessories includes Speaker Stand Add-ons, Roller Bags and Speaker Stand Stretch Covers.
'In 1998, a new PA category was born when HK Audio invented the original Lightweight Ultra Compact Active System – Lucas,' claims HK Audio Senior Product Manager, Rüdiger Forse. 'In Europe, Lucas quickly became the top choice for entertainers, and over the years it has become a synonym for powered 2.1 systems.
'Now, Lucas 2K brings about an improvement to all aspects of the Lucas experience – easy transport, plug-and-play set-up, a new look, and the most electrifying stereo sound performance we have ever designed for a Lucas. Add made-in-Germany quality, and you've got the PA that will soon be the heartbeat of mobile DJs everywhere.'
More: www.hkaudio.com