EAW has added the RSX218, a dual 18-inch subwoofer to its Radius family of loudspeakers.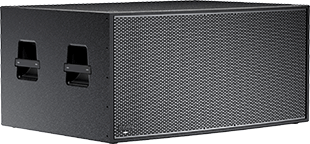 The Radius family includes 8-inch and 12-inch two-way point source loudspeakers available in two horn patterns, a double 8-inch articulated line array, a single 12-inch coaxial stage monitor and single 12-inch, 18-inch and now dual 18-inch subwoofer models. Like other Radius loudspeakers, the RSX218 is designed for both portable and permanent installation applications.
The powered subwoofer features EAW's signature acoustical design and technologies, including EAW Focusing and DynO, while integrating Dante networking and iOS-based prediction, control and monitoring via EAWmosiac. Convenient push-button cardioid operation provides directivity to reduce excess low-frequency energy on stage. With half space peak output of 141dB, the RSX218 provides 7dB more output than the single-18 RSX18 but in a very compact footprint, which translates into less equipment for larger shows, saving companies on cost and truck space.
The all-wood enclosure with EAW Roadcoat finish is loaded with two high-power 3-inch voice coil 18-inch woofers powered by 1.4kW of onboard amplification. The RSX218 combines optimised acoustic, electro-acoustic (transducer) and electronic (DSP) solutions to provide an extremely efficient system. This efficiency allows it to draw significantly less current than other subwoofers, allowing smaller AC services to be used without sacrificing power.
At the heart of the Radius family, including the RSX218, is the EAWmosaic iOS-based application. This completely integrated and intuitive platform provides prediction, control and monitoring at any location in the venue wirelessly.
Like the rest of the Radius family, the RSX218 features a large, highly-legible navigation screen that provides on-box access to all Radius functions using a simple turn and push encoder. Dual locking etherCon connectors provide simple daisy-chain Dante connectivity for single cable audio and communications. There is also an integrated WAP connection on every Radius loudspeaker to provide flexible router placement options. XLR audio input and thru connections provide an analogue input option and automatic fail-over redundancy from Dante. And power is delivered via powerCon inlet and loop connections to simplify cable management.
'The RSX218 brings tremendous low-frequency output and punch to the Radius family while still including all of the family's signature features and benefits,' says EAW Marketing & Communications Manager, Louie King. 'The Radius Series has been extremely well received since its debut last year. The addition of the RSX218 is ideal not only for live sound applications like festivals and clubs, but also for fixed installs in auditoriums, churches and performance venues.
'It extremely robust and can take a high degree of abuse – even in extreme bass-heavy situations,' he adds. 'Advances in acoustic design and core technologies like DynO have allowed us to push the limits that one would expect from a compact, dual 18-inch subwoofer. It's another component of the Radius family that makes it ideal for live and installed sound applications that require flexible sound reinforcement solutions.'
More: www.eaw.com