RCF has added the HDL 30-A to its HDL line array family, maintaining mechanical, network and phase compatibility.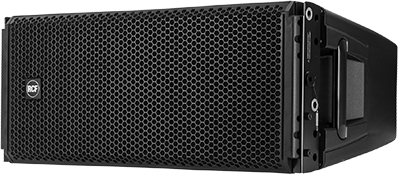 The loudspeaker features new transducers, real-time control and monitoring with RCF RDNet, a new class-D amplifier with onboard DSP, RCF FiRPhase technology, and a hassle-free rigging design.
The RCF HDL 30-A is a compact bi-amped two-way active touring system for medium to large events, indoors and outdoors. It features two 10-inch woofers and a 4-inch titanium compression driver using the proprietary time-coherent 4 Path waveguide. The design is the first line array to use a composite cabinet with zero-degree phase and ultra-linear amplitude response. The built-in 2.2kW class-D amplifier delivers up to 137dB decibels max SPL with a 50Hz to 20kHz frequency response.
The new rigging concept draws on the HDL 30-A's big brother, the RCF HDL 50-A. An optional link-bar allows the system to be rigged under an HDL 50-A array for short throw applications or to hang a complete HDL 30-A array with triple 12-inch HDL 53-AS flyable subwoofer array. The symmetrical design of the cabinet produces identical left and right coverage.
The HDL System features proprietary RDNet technology, giving real-time remote control and monitoring of all components from FOH. RDNet is a daisychain network based on the RS485 protocol. An RDNet Control8 allows to link up to 32 devices to each port (max 256 speakers with a single Control8 controller). When using Ethernet through a dedicated switch, it is possible to link up to 20 Control8 per computer: max 5,120 devices. Even extremely large systems can be easily organised and managed by RDNet.
The Sub 9006-AS high-performance active subwoofer is the preferred low-frequency companion to the HDL 50-A, featuring two hyper-vented 18-inch neodymium woofers with 4-inch inside-outside voice coils in a Baltic birch cabinet with onboard amplification and DSP.
More: www.rcf.it