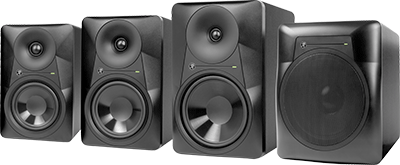 Mackie has announced 'a complete refresh' of its affordable active MR Series Powered Studio Monitors. Designed for personal studios, content creators and multimedia, the MR Series is available as the 5-inch MR524, 6.5-inch MR624 and 8-inch MR824, plus the 10-inch MRS10 powered subwoofer.
The MR Series features a logarithmic waveguide, which provides an ultra-wide listening sweet spot and enhanced stereo imaging for fidelity and consistent sound over a wide listening area. 'With MR, we saw an opportunity to really take advantage of some of our best studio monitor technology,' says Mackie Product Manager, Jon Rundle. 'By borrowing design elements from our flagship HR and XR Series, we can offer incredible fidelity and accuracy at prices that fit into even more conservative budgets.'
Acoustic Space Control and HF filters allow MR monitors to be optimised to ensure a flat response in different listening environments. There are three acoustic space settings that adjust for monitor placements close to walls and in corners. The high-frequency EQ control allows further adjustment to ensure an accurate response for your room. Included with each monitor is an acoustic isolation pad that decouples the monitor from the desk or stand for increased performance and accuracy.
'With more people turning their bedrooms and garages into studios, it is important to have monitors that can adapt,' Rundle says. 'When you dial in your monitors with the Acoustic Space Control, you can mix with confidence knowing that there won't be any deceiving boosts or cuts across the frequency spectrum.'
More: www.mackie.com