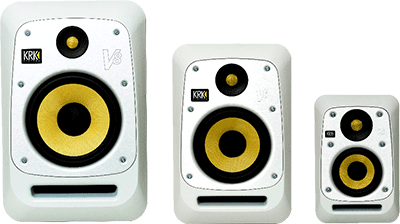 KRK Systems has released the V-Series 4 close-field studio monitor, designed for audio production applications where accurate reproduction is critical – recording and broadcast studios, sound design and audio production houses.
KRK reckons to have incorporated input from 'hundreds of pro engineers/producers/mixers' in their development. The result is the inclusion of 49 user selectable EQ settings to ensure set-up for room acoustics and placement anomalies as well as taste and individual preference. This involves KRK the modelling and analysis of hundreds of monitor placement and room acoustic situations to ensure that KRK delivers the most useful tools with minimal adjustments.
The V Series 4 uses custom amplifiers and proprietary drivers in their construction and voicing.
Key features:
· KRK custom Kevlar tweeter.
· KRK custom Woven Kevlar woofer.
· Front ported bass reflex enclosure design.
· Bi-amped class-D power.
· Acoustic and desk loading condition correction Low Frequency EQ.
· Mid and HF EQ.
· DSP driven EQ presets for room/desk correction and personal taste.
· Precise input level attenuation switch.
· Standby, ground lift, input sensitivity and logo LED selectors.
· Optional protective grille for mobile broadcast applications.
· Friction lock, Neutrik combo (XLR and TRS) connector.
· Robust EVA foam pad for non-skid and acoustic isolation.
· Universal threaded mounting bracket points.