US company V-Moda has released Remix, a portable Bluetooth loudspeaker with 3D-printed custom options.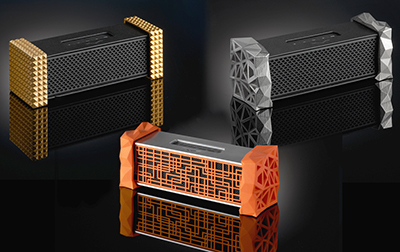 Three years in development and involving dozens of engineers and more than 50 prototypes, Remix is the next chapter in a story that began when, returning to Los Angeles from time in Ibiza, company founder Val Kolton watched a woman step out of a Rolls Royce on Rodeo Drive in haute couture – and a set of cheap white plastic headphones. He set out to exploit the obvious opportunity.
'After developing our critically acclaimed headphones, we felt it was time to evolve, to "remix" the V-Moda sound into a new form,' he says. 'We already had our innovative headphones with their world-renowned sound, materials and personalisation – why can't a speaker achieve the same goals and excel at the same vision?'
'Now V-Moda's Remix is ready – travel-friendly and compact, yet with full-bodied sound that's as detailed at low volumes as it is at full power. It is a historic landmark product because it is the first consumer product available right now where all surfaces are customisable via futuristic, additive-manufacturing technology.'
Built on V-Moda's established audio technology, Remix is available in two finishes – minimal CNC aluminium and vegan leather. At just over 20cm wide, it uses a glass-fibre diaphragm and long coil drivers, and features a rear-mounted bass reflex port that reckons to make it powerful enough fo mobile recording and production monitoring.
Another world's-first is that Remix includes a headphone amplifier in wired analogue mode, which claims to be comparable to relatively expensive standalone headphone amplifiers, allowing high-end, higher-impedance headphones to use V-Moda's Vamp technology.
Being 3D-printed, all six sides of Remix can be personalised (patent-pending). Using V-Moda's jewellery-grade 3D-printing, owners can add new sides, change the front grille or replace the main 'C-shell' housing for a bespoke finish. A range of materials is available: lightweight matte fibre in nine vibrant colours (from US$40 to US$250 depending on the parts), five distinctive versions of steel (US$140 to US$2,000), raw brass and bronze (sides only, US$3,500), sterling silver (sides only, US$4,500), 14k gold-plated and rhodium (sides only, US$5,000), 14-karat gold (sides only, US$130,000) and even platinum (sides only, US$370,000).
More: http://v-moda.com