Dynaudio Pro has added the LYD 48 to the top end of the LYD studio loudspeaker monitor range.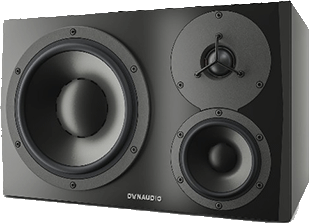 The LYD 48 features a three-way speaker design, coupling an 8-inch and a 4-inch woofer with 1-inch tweeter close-field and mid-field monitor applications. It is finished in white and black, as the original LYD range, and also in a classic all-black version.
Each of the woofers and the tweeter are powered by a dedicated class-D amplifier, delivering 80W/50W/50W of per monitor. The amplifier features a 96kHz, 24-bit signal path and selectable input sensitivity, as well as the same Standby Mode as the original LYD speakers. Also, like the other LYD monitors, the new three-way version offers Bass Extension selection for a choice between the default setting or pushing towards maximum bass or maximum volume. Changes will affect the low-end response, but importantly the linear frequency response remains intact.
The Sound Balance option is basically a tilt filter that tips the tonal balance to emphasise one end of the spectrum while decreasing the opposite end by the same amount. This approach is different from typical shelving filters, as it alters the frequency response, but without interfering with the phase. By default the monitor is set flat, but the Sound Balance toggle switch can go for either Bright or Dark.
The LYD 48 was conceived and constructed at Dynaudio's facilities in Skanderborg, Denmark, using handmade driver units. All LYD 48 monitors are also assembled, finalised and tested here before leaving the warehouse.
'This new monitor shares many of the same benefits as the original LYD range, including significant low-volume precision,' says Product Manager, Sebastian Rodens. Obviously, the new three-way is even more powerful and brings audio precision to your passion regardless of whether you produce electronic music, rock, jazz, classical or any other genre – and at any listening volume.'
The LYD 48 will ship in Q2 2017, at US$1,529/€1,099 List ex-VAT (each).
More: www.dynaudio.com