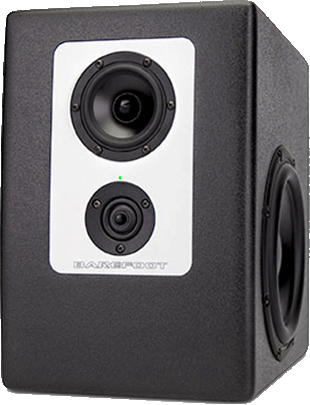 Barefoot Sound has released the Footprint01, an active close-field monitor for composers and musicians working in smaller spaces and budgets.
The new line launches with the Footprint01, an active three-way speaker that shares the same signature Dual-Force technology as the company's MicroMain and MasterStack monitor lines – opposing sub woofers, dual ring radiator tweeter and Multi-Emphasis Monitor Emulation technology.
The Footprint01 two-way DSP crossover feeds dual amp modules that drive the subwoofers with 500W of power, and deliver 150W to the mid- and high-frequency drivers. The midrange woofer is positioned above the tweeter in a speaker geometry that creates acoustic focus in the centre of the cabinet.
As with every Barefoot monitor, Footprint01 allows users to preview a mix as it would sound through alternative reference speakers by emulating the frequency, phase, transient response, dynamic compression and distortion characteristics of a variety of classic studio monitors.
The Barefoot Footprint01 is the company's response to evolving modern workflows by making the its ultra-high performance technologies available to audio professionals working in home-based facilities, smaller writing, editing or postproduction rooms, or on the road.
More: www.barefootsound.com