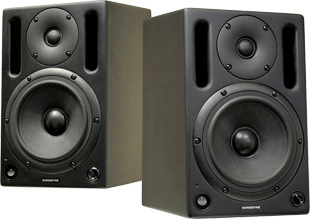 Indian loudspeaker manufacturer Sonodyne has unveiled the SM 50Ak and SM 100Ak close-field monitors at this year's Namm show.
The SM 50Ak is the smallest monitor in the Sonodyne range. Its active bi-amplified design delivers 45W to the 5.25-inch woofer and 45W to the tweeter to reproduce 70Hz to 22kHHz. Its aluminum enclosure and well-considered shape contribute to the accuracy of reproduction.
The SM 100Ak is also biamplified, offering 80W to a 6.5-inch woofer and 45W to its tweeter. The SM 100Ak delivers more low-end response, a larger sweet spot and greater SPL than the smaller model.
More: www.sonodyne.com