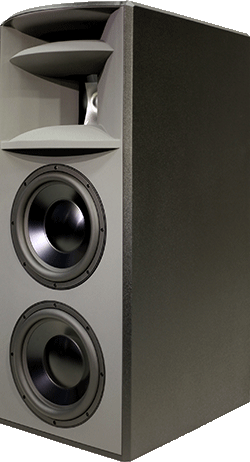 Ocean Way Audio (OWA has unveiled its HiRes3.5 Studio Reference Monitor loudspeaker system.
The OWA HR3.5 is a freestanding or soffit-mounted monitor system based on the HR4 studio monitor released early in 2016. It delivers a frequency response of 20Hz to 22kHz with an SPL rating of 120dB.
The HR3.5 Reference Monitor design incorporates an integrated two-way dual-horn system with a 1-inch HF and 8-inch MF drivers, mechanically time-aligned with twin 12-inch bass drivers per channel. The three built-in amplifiers that power the speaker, feature analogue and digital inputs, 96kHz and 24-bit sampling and tri-amped 3.4kW/channel of power.
At the heart of the acoustic design is OWA's geometrically complex, stone-cast dual/hybrid waveguide system. The system delivers accurately matched and detailed imaging with OWA's signature, unusually wide 100° x 40° (h x v) dispersion, yielding a sweet-spot across a broad area of the listening environment. The claimed consistency of its stereo image, even at the far corners of a room, is due to the highly consistent directivity response of this unique speaker system.
Dimensions are: 43-inch (h) x 17.5-inch (w) x 25.5-inch (d). Remote rack-mounted amplification is also available for soffit-mounted installations.
More: http://oceanwayaudio.com