British loudspeaker drive unit and system manufacturer ATC has announced the SCM12 Pro, an all-new, high-performance, two-way compact passive close-field monitor.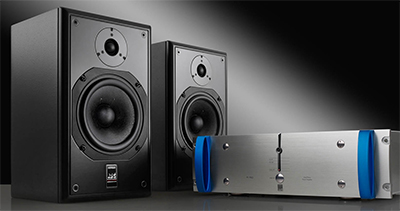 As an all-new design, the SCM12 Pro offers a compact, installation-friendly footprint suited to close-field critical listening, multichannel music and postproduction applications. The monitor uses the company's drive units for both mid/bass and HF, both hand-built at its UK facility.
The tweeter is a 25mm/1-inch soft-dome unit, designed around ATC's dual-suspension technology. Unlike conventional tweeters, this employs two suspensions, for greater control of the voice coil and dome motion – especially at higher sound pressure levels. The result is an extended high-frequency response with greater clarity and definition due to the reduction in disturbing enharmonic distortion. Listener fatigue is also greatly reduced.
Mid/bass reproduction is handled by ATC's 150mm/6-inch proprietary CLD driver. Using a 45mm/1.75-inch diameter voice coil, and employing an FEA (Finite Element Analysis) optimised high-energy symmetric gap motor system, the driver is capable of wide dynamic range with minimal power compression. Cone construction employs proprietary Constrained Layer Damping (CLD), a process that uses multiple laminated fabric cones to form a stiff, light, and tremendously well-damped structure. Acoustically, this construction creates a smoother on- and off-axis frequency response and also a reduction in distortion leading to a more lifelike reproduction of source material.
The passive crossover uses the minimum number of components in a second-order implementation. Capacitors are all 250V DC metallised polypropylene and all the inductors are air-cored for minimal signal distortion. Additionally, all of the inductors are wound in-house with very high-purity copper while large-gauge wire is used for the bass components to minimise signal losses.
Beyond the release of the SCM12 Pro, an install-specific model, the SCM12i, will be available as of Q1 2017. This will feature threaded mounting points to mate with widely-available wall and ceiling brackets from K&M and Adaptive Technologies to simplify installation in complex multichannel systems, such as those required by Auro 3-D, Dolby Atmos and DTS:X.
The SCM12 Pro is designed to be partnered with ATC's own range of stereo power amplifiers, such as the 150W/channel P1 Pro dual-mono power amplifier.
'Anyone who has been waiting for an ATC nearfield with a smaller footprint, that is more easily installed, or that is more affordable, yet still delivers undiminished ATC performance, then the SCM12 Pro could be for them.' says ATC Technical Sales Manager, Ben Lilly. 'ATC R&D Manager Richard Newman has poured the same knowhow, time, and passion into this new model that has made the rest of the professional product line so successful. Users will find that productions completed using the SCM12 Pro will translate beautifully to other systems and that their incredibly low distortion makes listening to them a pleasure – even after long hours in the studio. At under £1,150.00 per pair, they may prove an ideal upgrade from ageing, hard-to-repair passive studio monitors.'