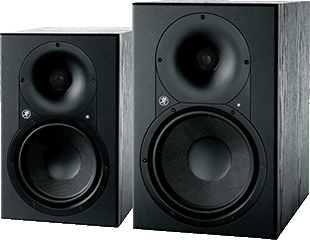 Aimed at professional and project studios, Mackie's XR Series of monitors comprises the 8-inch XR824 and 6.5-inch XR624 models.
Drawing on Mackie's HR Series monitors, XR features a smart logarithmic waveguide, providing acoustic alignment to deliver precision balance between highs and midrange clarity. Both models feature a 160W power amplifier and premium transducers including a Kevlar LF driver. Unique to XR, Mackie has developed the ELP Bass Reflex System, which uses an extended-length, internally curved port that delivers outstanding bass response and increased output.
'The new ELP porting system significantly extends bass response, but its unique design offers additional benefits,' says Mackie Product Manager, Jon Rundle. 'The port exit sits completely flush with the back of the cabinet, creating a zero turbulence design that significantly improves overall acoustic performance.'
XR Series Studio Monitors can be optimised to the specific mix environment with user-controllable acoustic space tuning controls. There are three different acoustic space settings that adjust for monitor placements. Plus, both high- and low-frequency EQ controls are available for final sonic adjustment to the mixing space. Other finishing features include an eco-friendly auto on/off functionality that senses when a signal is present and turns that monitor on or off, plus the inclusion of acoustic isolation pads for each monitor.
'Mix translation is so important and having a flat frequency response from your studio monitors is critical. We didn't want to hype up your mix – if something sounds off, you want to know. When it sounds great, you can trust that it will sound great anywhere,' Rundle says.
The Mackie XR824 and XR624 monitors are available worldwide from November 2016. Sold individually, the XR824 has an MSRP of US$629.99 and the XR624 has an MSRP of US$519.99.
More: www.mackie.com/XR