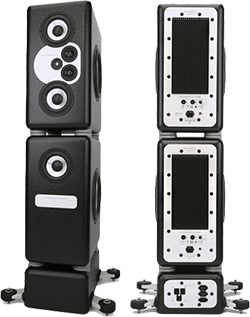 Following the MicroMain27 and MiniMain12 reference loudspeaker systems, Barefoot Sound has released the MasterStack12 4.5-way active modular tower studio monitor.
Comprising the MiniMain12 and MicroSub, the MasterStack12 is a main monitoring system using ten drive units housed in sealed enclosures, prmisong low distortion, a wide dynamic range and fast transient response.
Each driver is designed with an under-hung voice coil moving inside an advanced geometry motor providing extremely long linear excursion. The ring radiator tweeter also provides detailed high frequency response with wide dispersion to its highest frequencies. The aluminium cone subwoofers, woofers and midrange drivers radiate as perfect pistons to at least 2.5 octaves beyond their respective bandwidths.
The MasterStack12 also includes Barefoot's MEME DSP technology, which allows the MasterStack12 to emulate the characteristics and behaviour of other studio staple monitors including NS10M and MixCubes. While these emulations are not identical to the original speakers, they capture their character, frequency, phase and transient responses, dynamic compression and some of their distortion components.
Key features:
· Controls: AES3 LR channels select, Input level stepped attenuator, subwoofer level, emulation voice select.
· Input Impedance: 25kΩ.
· Frequency Response: 18Hz-50kHz (±3dB) 26Hz-40kHz (±1dB).
· Bass Response: -3dB @ 18Hz, Q = 0.707 Slope = 12dB/octave.
· Crossover Frequencies: 80Hz/200Hz/800Hz/4kHz.
· Tweeter: 1-inch ring radiator. Amplifier: 250W Hypex.
· Midranges: 2 x 2.5-inch aluminium cone, ±2mm linear excursion. Amplifier: 250W Hypex.
· Woofers: 3 x 7-inch aluminium cones, ±13mm linear excursion. Amplifier: 500W Hypex.
· Subwoofers: 4 x 12-inch aluminium cones, ±25mm linear excursion Amplifier: 2400W Hypex.
· AC Power Input: Nominal 115V/230V AC selectable.
· Power Consumption: Idle: 100W, maximum (RMS): 1.8kW.
· Weight: 280
lbs
per tower (127kg)/s
hipping 325lbs per tower (147kg).
The Barefoot Sound MasterStack12 is available to purchase in the UK from KMR Audio at £42,000 inc VAT (£35,000 ex VAT).