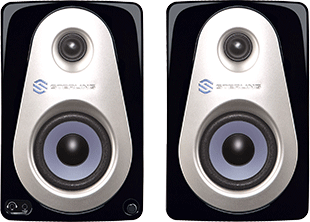 Sterling Audio's MX Series of powered studio reference monitors combine 'next-generation materials' with proprietary dual-axis WaveGuidanceVH technology in series three models – the MX8, features an 8-inch LF driver and 1-inch silk-dome tweeter, while the MX5 has a 5-inch woofer and 1-inch silk-dome tweeter, and the MX3 a 3-inch woofer and 0.75-inch tweeter.
Sterling's dual-axis WaveGuidanceVH technology is designed to produce a very wide sweet spot with wide and high dispersion to assist off-axis listening both horizontally and vertically. The MX Series' low-frequency drivers employ a proprietary, multi-fibre cone design with superior damping. A custom, four-layer voice coil delivers high motor force to support good low-frequency performance. The silk-dome tweeter is powered by a neodymium magnet. Each MX Series monitor sports a rear-panel acoustic port, which reduces low-frequency turbulence and distortion.
All three models feature variable high-pass (+2, 0 or -2dB) and low-pass (-3, 0 or +3dB) filters that enable you to adapt them to different listening preferences and operating environments. The MX8 and MX5 offer balanced XLR, balanced quarter-inch TRS, and unbalanced RCA inputs; the MX3 offers unbalanced RCA inputs.
The top-of-the-line MX8's 125W amplifier and 8-inch woofer for tight, accurate low end. The MX5 is more compact for use where space is at a premium; it is driven by an 80W of class-A/B power. The highly portable MX3s features a 20W power amp. The MX3 is sold in pairs, while MX5 and MX8 monitors are sold individually.
All MX Series monitors feature studio grade internal components and protective circuitry. All are finished polished ebony finish and have backlit Sterling logo.
The MX8s are expected to carry a street price of US$249.99, the MX5s will be US$149.99 and the compact MX3s US99.99 per pair.
More: www.sterlingaudio.net