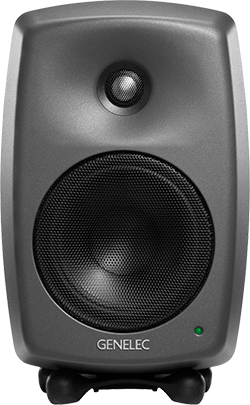 Genelec has announced the 8430 Smart Active Monitor with connectivity for IP streaming applications.
Housed in a compact die-cast aluminium enclosure, the system's acoustic design features Genelec's Minimum Diffraction Enclosure (MDE) technology and uses a computer optimised advanced Directivity Control Waveguide (DCW). Ethernet audio streaming is compliant with AES67 and Ravenna industry standards, and supports all standard audio sample rates from 44.1kHz to 96kHz and word lengths from 16 to 24 bits. The frequency response of the 8430 is flat in a 1.5dB window on the acoustical axis, with controlled directivity off-axis. The RJ45 Ethernet connector is housed in an XLR shell for reliability in physical connections.
The audio channel(s) to be reproduced can be configured over the IP network. The 8430 time synchronises in the IP network using the highly-accurate PTP v2 (Precision Time Protocol) method, creating a solid and reliable sound image for audio monitoring from stereo to 3D immersive audio set-ups. An unlimited number of 8430 monitors can be configured to reproduce a multichannel or 3D immersive audio presentation delivered over the low-latency IP stream. The GLM AutoCal automatic calibration method can support more than 30 monitors in one room.
A floating-point?DSP engine enables precise signal processing, while Genelec-designed class-D amplifiers offer low noise level and excellent linearity. The latency from the IP audio stream to sound output is about 3ms, although the actual configuration of the audio-over-IP streaming may cause some additional latency. Signal processing is time equalised to ensure latency remains precisely constant at all frequencies above 200Hz for accurate translation of time domain waveforms.
With high-performance, low-noise and high linearity, the class-D amplifier uses a universal mains voltage switched-mode power supply.
Genelec's SAM technology addresses the variable room acoustics, automatically optimising and aligning each monitor for level, time of flight related to the monitor distance to the listening position, as well as to compensate the influences of the room acoustics for every SAM monitor on the network.
More: www.genelec.com