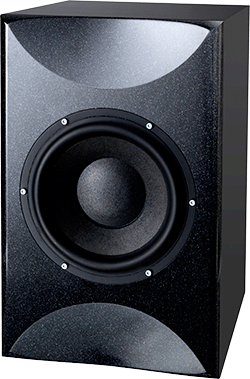 UK manufacturer Unity Audio has announced the Boulder Active Bass Extender (Babe, designed to transform the company's Boulder MkII from a three-way close/mid-field monitor into a four-way system mid-field/main monitor for higher SPL and extended low frequency applications.
The woofer is a single 300mm driver with a 130mm Hexatech external voice coil wound with a hexagonal-shaped aluminium coil wire, which is two-to-three times thicker than a standard woofer. The design uses the same sealed cabinet approach used throughout the Unity Audio range. Each cabinet has its own rack-mountable 750W class-D amplifier. An external Unity Audio rack-mount DSP two-input, four-output speaker management system is used to crossover the Babe to the Boulder with the added benefit of precise onboard gain, phase, EQ, limiters and presets.
In a stereo Boulder/Babe system anywhere from two to four cabinets can be employed for higher the SPL. Several mounting options are available to provide flexibility, including soffit-mount or freestanding, allowing the speakers to be positioned side-by-side, horizontally with the Babe underneath or as a tower with dedicated optional stands.