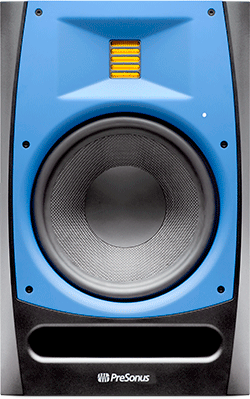 PreSonus has announced the R65 and R80 active studio monitor loudspeakers.
Both models feature class-D power amplifiers with 100W RMS driving the woofer and 50W RMS driving a 6.8-sq-in Air Motion Transformer (AMT) tweeter, and equipped with the company's Acoustic Tuning controls.
Designed for wide lateral dispersion and very narrow vertical dispersion to reduce ceiling reflections, the R65 and R80 give a broad sweet listening spot. The R65 employs a 6.5-inch, coated Kevlar woofer, while the R80 sports an 8-inch woofer. The Acoustic Space switch controls a second-order, low-shelf filter that helps to compensate for the boundary bass boost that occurs when the monitor is placed near a wall or corner. An HF-driver level control is also provided to help mitigate room problems. A four-position high-pass filter also assists room optimisation.
The monitors sport balanced XLR and quarter-inch TRS and unbalanced RCA input connections. Safety features include RF shielding, current-output limiting, over-temperature protection, and subsonic protection. Frequency response is rated at 50Hz to 25kHz for the R65 and 45Hz to 25kHz for the R80. An optional amplifier Standby function helps conserve energy.
The PreSonus R65 and R80 are available immediately at PreSonus dealers for MAP/street prices of US$399.95 and US$499.95, respectively.