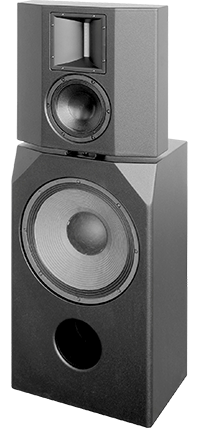 Alcons has updated its CRMS Cinema Reference Monitor System with the release of the MkII version for high-end mix/screening rooms, postproduction facilities and dubbing stages with a room depth under 20m.
Featuring the proprietary RBN401 pro-ribbon driver, the CRMS is a three-way system combining clarity and intelligibility with unusually high headroom. The Alcons pro-ribbon drivers claim up to 90 per cent lower distortion than conventional mid/high transducers, while the very high peak-power handling offers a 1:16 RMS-to-peak ratio.
The CRMS system consists of a separate, adjustable mid-high frequency section, featuring one RBN401 4-inch pro-ribbon driver HF with non-vented 8-inch mid-range driver and a vented low-frequency section with 15-inch woofer and low power-compression 4-inch voice-coil design.
The horizontal dispersion of the RBN401 extends the stereo imaging and depth-of-field to a larger number of seats in an auditorium. Due to the 'compression-less' principle of the pro-ribbon transducer, the system has a linear response at any SPL
A matching surround system with identical MF/HF components, CRMS-SR, is available, offering perfect screen/surround blending, resulting in a very uniform sound stage and a seamless transition between surround positions in an immersive sound system.
For full system performance, the bi-amped CRMS is driven by two channels of ALC Sentinel controller-amplifier. System-dedicated processing presets, SIS sensing circuit, four-channel 'hi-fi grade' amplifier stages, 4-input/4-output 192kHz AES3 signal inputs make the ALC Sentinel the ideal drive for the Alcons CRMS. The 4Ω system impedance offers maximum amplifier efficiency.
The Signal Integrity Sensing (SIS) pre-wiring ensures complete cable/connector compensation between the CRMS and ALC, significantly increasing response accuracy regardless of cable length and system impedance, with tight and accurate mid and bass response as result (system damping factor of 10.000).
With a system depth of only 320mm., a complete system can be installed in even the most shallow spaces. The system can both be free-standing as well as flush-mounted. The recommended CB181sl subwoofer has a depth of only 250mm.
'With the MkII version of the CRMS, we were able to fine-tune the system on details to increase the resolution even further,' says Alcons Audio R&D head, Philip 'Dr Phil' de Haan. 'The wider, slanted mid-high top cabinet construction increases the stereo imaging, while the new 8-inch mid-range driver and 15-inch woofer significantly increase power handling and reduce power compression. As a result of Alcons' tight manufacturing standards, all system cabinets are within "matched pair" tolerance, on-par with the finest studio monitors.'
More: www.alconsaudio.com .