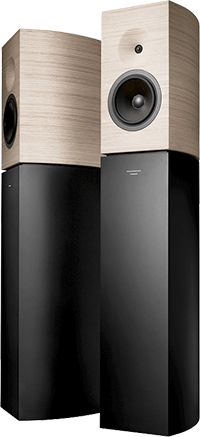 First seen as a 'concept' design at ProLight & Sound, French company Amadeus is now shipping its Philharmonia high-definition monitors.
The speakers were designed specifically for the new Philharmonie de Paris recording and mastering studios – built to capture performances by the world's most prestigious symphonic orchestras – by Amadeus R&D Director Michel Deluc and renowned architect Jean Nouvel, who designed the new Philharmonie de Paris concert hall.
'Imagine a reference sound system with exceptional design, ergonomics and acoustics, as a kind of consecration,' says Amadeus co-founder and CEO, Bernard Byk. 'Amadeus praises tradition, and the new speakers combine innovation as well as timeless beauty – they embody the know-how, the creativity and the values with which Amadeus has been building its history for more than 35 years.'
Philharmonia uses a curved structure consisting of 547 wood veneers accurately machined and assembled. It also features a unique hybrid laminar port using progressive termination.
'The construction technique helps neutralise standing waves affecting sonic clarity and low-frequency definition, through an extremely complex internal structure using a combination of interlocking panels arranged in two perpendicular planes, each hosting several tuned notch resonators,' Deluc explains. 'This allows a dramatic decrease in sound colouration through a crossed structure of longitudinal and transverse reinforcements. This proprietary technique is in part inspired by Amadeus-designed professional main monitoring systems used in large recording studios, while the "crossed structure" draws on aircraft manufacturing processes, particularly wing design.'
'We have been pursuing this quest for the ultimate timbral neutrality, along with musicians, recording engineers and artists who use our products, for a very long time,' says Amadeus Marketing Manager, Gaetan Byk. 'The process of technological reflection at Amadeus was led by the needs and demands of the sound engineers who will work in the studios of the Philharmonie de Paris. Designed to record the major orchestras of the world, the studios within the concert hall were destined to have state-of-the-art reference loudspeakers.'
Philharmonia is a two-way, active speaker with a 28mm soft-dome tweeter and custom 8-inch woofer. It has analogue and digital inputs with a custom integrated DAC and an amplitude linearity range (±2dB) from 43Hz–22kHz. The high-frequency driver features very low dielectric losses and high thermal conductivity, loaded on an exponential waveguide machined in wood.
The cabinets is custom manufactured from 547 layers of Birch and stand 1.6m high, with the electronics inside the lower part of the enclosure. Internal bi-amplification uses two custom-built amplifiers, each delivering 700W into 8Ω. These proprietary PPM-PWM fixed frequency class-D amplifiers are equipped with a high-efficiency switched mode power supply. Each speaker channel is under control by a, 64-bit digital processing unit with 118dB dynamic range. Each onboard DSP unit includes a module dedicated to managing core system parameters, including system EQ, time alignment between sections, limiting, transducer thermal protection.
A line-level XLR analogue input allows personal selection of DAC alongside two digital inputs/outputs conforming to the AES3 digital audio data transfer standard. These are coupled with a high-resolution 96kHz, 24-bit converter placed as close as possible to the electronic amplifiers,. The speakers also feature an RJ45 network input allowing remote control of its DSP processor for optimal adjustment via dedicated software to match the speakers to the acoustical properties of each listening space. The software is an app that runs on Apple's Macintosh and iPad, and Microsoft Windows computers.
'The components have been carefully selected, evaluated, listened to and combined,' says Michel Deluc. 'The amplifier includes a built-in DSP module, with digital filtering functions such as system EQ, time alignment between HF and LF sections, limiter parameters, thermal protection of the transducers, and more. The aerodynamics of Philharmonia's tuning ports is a masterpiece. It has been largely empirical, inspired by aesthetic aspects, and based on hybrid low-velocity laminar ports using progressive termination. This leads to a rather complex and major technological innovation, whose theory is still in its infancy.'