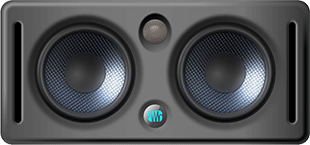 PreSonus has released the Eris E44 and E66 two-way active MTM studio monitors, based on a nested Midwoofer-Tweeter-Midwoofer (MTM/D'Appolito) driver configuration.
The E44 and E66 models both use a pair of mutually coupled Kevlar low/mid drivers (4.5-inch and 6.5-inch, respectively) to operate as a single, larger woofer, Placing the 1.25-inch, silk-dome HF driver between them minimises system phase displacement.
By bringing the midrange drivers close together and raising the HF driver, the E44 and E66 are able to perform in both horizontal and vertical orientations. A three-position Acoustic Space switch compensates for boundary bass effects, while High and Mid acoustic tuning controls offer further room adjustment. A low-cut filter makes it easy to integrate a subwoofer. Connection is via individual balanced XLR and quarter-inch TRS and unbalanced RCA sockets. SProtectionincludes RF shielding, current-output limiting, and over-temperature and subsonic cut-out.
Eris E44 and E66 studio monitors are expected to be available in the Q3 2015, at an anticipated street price of US$249.95 and US$349.95 each respectively.
More: www.presonus.com