Barefoot Sound has announced MicroMain26 studio loudspeaker monitor.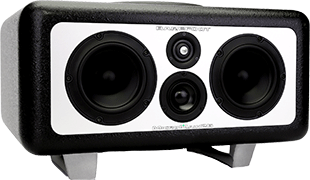 Based on the company's MicroMain27 Gen2 platform, the MM26 raises performance with the used of a proprietary 2.5-inch aluminium cone midrange driver as part of a four-way active system. The design uses six drive units housed in sealed enclosures, covering a 30Hz to 45kHz frequency response with low distortion, remarkable dynamic range and ultra-fast transient response. The ring radiator tweeter is exceptionally detailed and produces very wide dispersion out to its highest frequencies.
The MM26 2.5-inch aluminum cone midrange is housed in a 3D-printed waveguide enclosure. detail that rivals any driver in history.
In operation, the monitor provides four modes: the 'brutally revealing' Flat response, the 'warmer and sweeter' Hi-Fi setting, the Old School setting that emulates the the Yamaha NS10M close-field, and the Cube setting emulates the mid-centric sound of classic mix cubes.

Barefoot monitors are distributed in the UK by KMR Audio.
More:
www.

kmraudio.com
More:
http://barefootsound.com