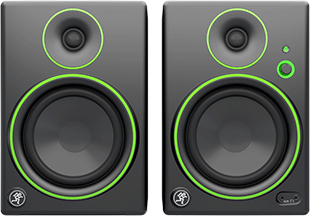 Mackie has added two new models to its CR Series Multimedia Monitor loudspeaker lineup – the CR4BT and CR5BT feature Bluetooth music streaming.
'A common expectation of technology products these days is fewer wires, whether in a studio, entertainment system or other multimedia environment,' says Mackie Channel Marketing Director, Matt Redmon. 'In consideration of that evolving customer demand, the new CRBT models provide the same studio-quality design and acoustic performance as the other Creative Reference models, only now with the flexibility of streaming audio wirelessly in environments where high-quality sound is required.'
The CR4BT and CR5BT join the CR3 and CR4, all designed to bridge the gap between professional and personal applications. All CR monitors use 0.75-inch silk-dome tweeters, with the CR4BT using a 4-inch woofer and the CR5BT a 5-inch woofer for extended-range music and A/V postproduction.
Unique to the line, a left/right speaker placement switch allows the volume control to be located on the left or right of a workstation. The front panel includes an on/off/volume knob with a lit power indication ring that will also control the volume of headphones, which can be plugged directly into the front of the monitors. Both models feature a front panel Bluetooth button for easy pairing and connection indication. There is an additional front panel aux input for connecting alternate audio sources.
All Mackie CR Series monitors come with all the connecting cables and a pair of acoustic isolation pads included. Used in professional applications, acoustic isolation pads minimise bass build-up that can muddy a mix. Plus, the pads' angled design allow the user to tilt the monitors slightly up or down for more focused listening depending on their set-up.
'Whether you're a pro looking for a compact pair of accurate, articulate monitors for work or just looking for a pair of amazing-sounding speakers for entertainment, these are an affordable solution that deliver professional results in our most compact form factor to date,' Redmon adds.
More: http://mackie.com