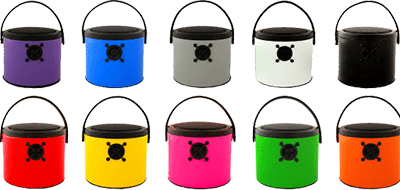 Known for pro audio mastering and recording equipment, UK boutique audio company Crookwood has extended its reach with the launch of a prosumer Bluetooth portable loudspeaker. The SoundBucket was designed from scratch to professional standards in terms of its frequency response, loudness and distortion specs, but presented in an unorthodox compact cylindrical housing – in a variety of colours.
'They were designed like a real hi-fi speaker with a big woofer and small tweeter, and unusually, a pure analogue path,' Crookwood's Crispin Herrod-Taylor explains. 'The net result is a detailed, clean sound, ready for hi-res audio players. Using the latest apt-X encoders they sound great on Bluetooth too. To help people decide, there are some audio clips on Kickstarter comparing the SoundBucket to a studio speaker, and a leading competitor.'
A professional version is available for personal studio/DJ/presentation use that uses the same speaker, but without Bluetooth connectivity. In order to give the required combination of loudness and battery life, large batteries give up to 50 hours of operation. At full volume these speakers can produce low distortion up to 100dB.
Kickstarter was chosen as a route to attract new a new consumer audience, and also to bypass the need to access bank funds, which are frequently a problem for small companies.
More: www.soundbuckets.com