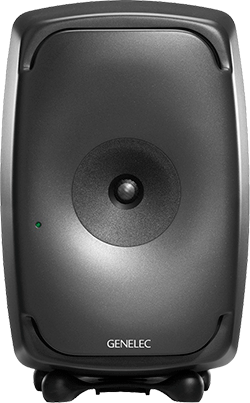 The 8351 Acoustically Coaxial three-way Smart Active Monitor system is Genelec's response to the need for higher production standards in acoustically challenging environments. Exploring new ground in its integration of mechanical, acoustical and signal processing, the design reckons to be 'a bold step forward' in active monitoring.
The 8351 takes its size from the 8050, with dimensions of 17.75-inch x 11.25 -inch x 11-inch – a compact footprint for a three-way monitor. The centre of the enclosure features the Minimum Diffraction Co-axial midrange/tweeter driver evolved from the 8260, providing accurate imaging and consistent sound quality both on and off-axis (vertically as well as horizontally). The woofers are located behind the Maximised Directivity Controlled Waveguide (MaxDCW), with the lips of the waveguide providing the acoustic openings for the proprietary Genelec-designed Acoustically Concealed Woofers (ACW). Together these elements form a three-way acoustically coaxial system with an extremely large waveguide (MaxDCW) across the cabinet front.
The 8351 can be used in vertical or horizontal orientations, with closely similar directivity characteristics off-axis.
The 8351 is capable of delivering 110dB at 1m through a combination of proprietary class-D amplifiers for the woofer (150W) and midrange (120W) drivers, while a discrete-components (90W) proprietary class-A/B amplifier applies power to the tweeter. The 8351 has a system frequency response of 32Hz to 40kHz (-6dB), ±1.5dB (38Hz to 21kHz) with very low distortion.
SAM (Smart Active Monitoring) technology provides a computer controlled, flexible network of monitors and makes them perform as a fully aligned system with regard to level, timing and room response equalisation – all done automatically – as well as being configurable by the end-user. Like all active monitors in the Genelec SAM range, the 8351 is capable of automatically adapting to acoustical environments in broadcasting, postproduction, music studios and remote recording environments.
More: www.genelec.com