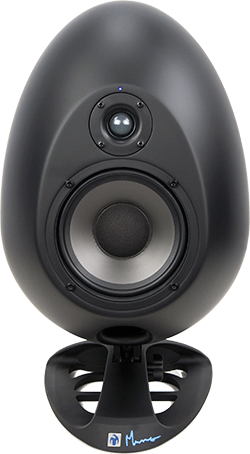 Munro Sonic is a new professional loudspeaker collaboration between acoustician Andy Munro, and James Young and Phil Smith of Sonic Distribution. Building on the sE Munro Egg150 released in 2011, the team looked to develop, improve and refine.
The updated Egg150 is a fully Active Integrated Monitoring System – the amplifier is separate from the speakers (to improve speaker chassis performance) but system is designed as a coherent whole. Its separate control unit and amplifier delivers bi-amplified power matched to the egg drive units, and features source select inputs, active analogue crossovers, LF and HF trim EQ, and a three-position mid-band control to emulate the mid-range response of both Hi-Fi and NS10 type speakers. The traditional enclosure has been replaced with curved chassis to eliminate diffraction and internal resonance.
The new Egg150 has the same base form and function as the earlier model, but sport a new amplifier PCB design from Andy Munro and UK Military and Aerospace equipment manufacturer Sedgewall (BS EN ISO 9001:2000 certified). The sound of the systems in production is claimed to be 'much closer to the original Gold Standard design by Andy Munro, and while the HF, and essence of the system's sound remain very similar to the original, the bass is even tighter and punchier, and the low-mids more open and focused'.
Key features:
Monocoque shell construction (rigid and resonant neutral).
Near zero diffraction interference (smooth frequency response).
No internal standing waves (greatly reduced smearing)
Free-standing control unit and integrated amplification.
Dual input switching and level control.
Precise 'sweet spot' –LED locator guide beams.
Integrated base with adjustable vertical alignment.
Trim pots for LF and HF calibration.
Mid frequency equalisation for 'hard', 'soft' or 'reference' listening.
'The Egg speaker project has been a labour of love for the past five years, our goal to bring radical new performance and aesthetics to the dusty world of box shaped speakers,' says James Young of Munro Sonic and Sonic Distribution. 'Under the Munro Sonic brand we have a raft of new products set to launch during 2015 and 2016. We have launched the improved Munro Sonic Egg 150, and the all-new Munro Sonic Egg 100 system is being announced at Winter Namm 2015 to ship in spring 2015. A new sub will ship by Q2 2015.'
More: www.munrosonic.com