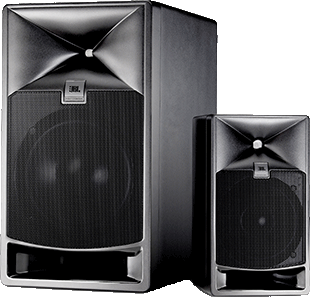 JBL Professional has released the first two models in its 7 Series Master Reference Monitors – the 708i and the 705i use technologies from the flagship M2 Master Reference Monitor to address broadcast and postproduction facilities producing content in surround and immersive audio formats.
The designs use a new miniature high-frequency transducer, the 2409H, featuring JBL's low-mass, annular diaphragm to give high output with low distortion, and a frequency response up to 35kHz. JBL also engineered two new high-excursion 5-inch and 8-inch woofers, the 725G and 728G, to extend into the 30Hz range. The Image Control Waveguide and a dividing network claim an 'imperceptible' crossover transition, particularly in the dialogue range. Front-ported birch plywood install-ready enclosures include bottom and rear-panel mounting points. With a range of available mounting brackets, the speakers' placement can be optimized to maintain sight lines to video displays.
To reduce enclosure size and installation cost, the speakers are centrally powered by Crown DCi 8|300N 8-channel and 4-channel power amplifiers. The 705i and 708i can be driven by a single channel or bi-amplified. For greater accuracy and room-to-room consistency, the BSS Soundweb London signal processor provides speaker tuning, room EQ and bass management. The processor accepts 16 or more analogue and AES/EBU inputs, and networks with the power amps via Cat5. The system can be externally controlled with Harman's HiQnet Audio Architect software, a hardware controller, or wireless tablet. The amplifiers, processor and h speakers (including the M2), provide a modular system that can be scaled to any size room and any number of channels.
The LSR705i and LSR708i Master Reference Monitors will be available in Q1 2015 as part of complete 5.1, 7.1 and immersive sound monitoring systems.
More: www.jblpro.com/7series