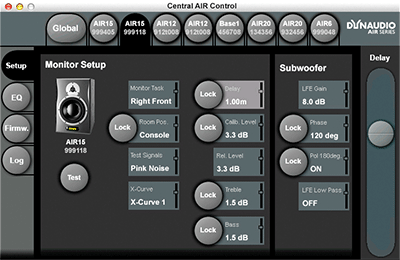 Replacing Dynaudio Professional's original TC PC-IP installer software, the company has announced a new Air Control application for Mac, PC and Windows-based tablets, allowing users to carry out advanced calibration and alignment of Air monitoring systems.
The software provides access to advanced tools and features inside Air monitors and subwoofers including timing and SPL calibration and parametric EQ for each monitor. Air Control allows users to define and store custom setups and presets with selective parameter locking, and a special measurement mode provides EQ line signal out from selected monitors.
The new application design is reckoned to be easier to use and an offer a more efficient way to fine-tune a complete, digital Air monitoring system.
'Air Control will be available as a free download,' says Dynaudio Professional Global Business Manager, Fred Speckeen. 'Air systems are an industry standard, and have been so for over a decade. It is chosen by ear by the world-leading film, music and broadcast production studios. Air Control is designed to meet their accelerating project and workflow demands where minutely accurate adjustments and configurations must be easily made, saved and quickly recalled.'
Download software