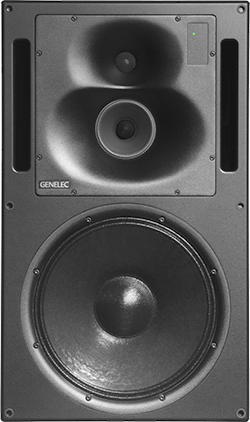 The Genelec 1238A is a three-way monitoring loudspeaker, able to adapt to its acoustical environment using the company's Loudspeaker Manager GLM and AutoCal. This includes aligning levels at the listening position, delays from the signal input to the listening location, and compensating for acoustical room influences in the frequency responses.
The 1238A features a 15-inch (380mm) bass driver, 5-inch (130mm) midrange driver and a 1-inch (25mm) metal dome tweeter, with the mid and the high-frequency drivers mounted in the proprietary Directivity Control Waveguide, DCW, which allows the system to reproduce flat frequency response both on and off its acoustical axis allowing for a wider sweet-spot. Each of drive units has a power amplifier with a total rating of 500W for the woofer, 250W for the mid-range, and 200W for the tweeter. Frequency response runs from 35Hz up to 21kHz ±2.5dB.
The 1238A can be installed flush-mounted (with rackmount amplifier) or free-standing. The monitor is designed for various applications including recording studios, broadcasting control rooms, pre/postproduction rooms, as well as drama studios and mastering rooms.
More:
www.genelec.com/products/1238a