Studio monitor specialist Eve Audio has announced the SC3010 and SC3012 reference loudspeakers.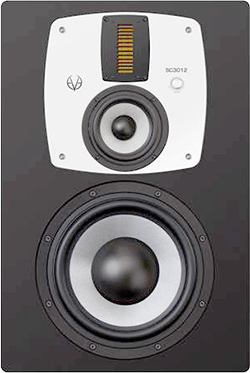 The SC3010 and SC3012 are designed to serve as main monitors for large recording studios, mastering suites, and audio postproduction studios for film and television, including cinema applications and in-wall installations.
The SC3010 powered studio monitor incorporates a new 10-inch low-frequency driver while the SC3012 houses a 12-inch low-frequency driver. Both models are equipped with a 5-inch Rohacel sandwich diaphragm woofer that has been designed 'to reproduce midrange frequencies very clearly and with utmost detail'. The SC3010 and SC3012 are the only monitors in the Eve Audio range that feature the newly developed RS6 Air Motion Transformer. Its larger geometry and increased folded diaphragm area are designed to achieve a higher sound pressure levels and serve a wider frequency range, with a crossover point as low as 1.8kHz.
All frequency response parameters are controlled by high-resolution DSP electronics supported with a high-quality A/D converter from Burr-Brown. As the PWM amplifiers are directly connected to the DSP section, no conversion is necessary.
For in-wall installations all corresponding acoustic filter modifications are achieved when filter controls are set to 'in-wall'. The backfiring bass ports can be closed with provided foam material.
The speakers are packaged in sophisticated cabinets that house an ultra stiff front plate which combines plywood with a special inner construction to reduce unwanted resonances. The grey centre plate housing the midrange unit and AMT tweeter can be rotated to allow for use in both vertical and horizontal orientation, preserving control room sight lines and optimizing acoustic performance.
Expected to ship in September 2014, the SC3010 will carry a list price per pair of £5,500 and £7,130 for a pair of SC3012s